Eye-Fi, purveyor of those clever Wi-Fi-enabled SD cards for digital cameras, has announced the new Eye-Fi View, a Web-based version of the company's Eye-Fi Center software. The company also unveiled other new features designed to make it easier for both consumers and professionals to get social with their photography.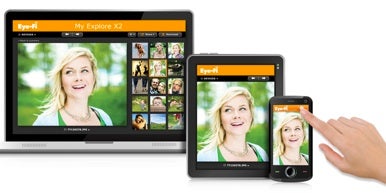 Users of any of Eye-Fi's X2 cards can use Eye-Fi View to share their photos in an online gallery that is accessible by logging in from any modern computer or mobile device, including an iPhone or iPad.
The Eye-Fi View site will let them browse, share, and download full-resolution media from the last seven days for free. An Eye-Fi Premium account, available for $5 per month or $50 per year, gets unlimited storage and no time limit.
Also, thanks to a free update, Eye-Fi Pro and Pro X2 users can now automatically upload raw files to both a Website via FTP and Eye-Fi View, creating a convenient backup.
Other new features for Eye-Fi users include e-mail sharing (free to all Eye-Fi users), lifetime upgrade options for Eye-Fi's Online Sharing ($20) and Geotagging ($30) features, and more international support for the company's services in France, Germany, Japan, and United Kingdom.