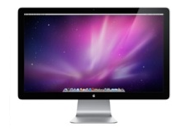 Prior to the most recent iMac update, there had been speculation that Apple might add a touchscreen display to the updated models. While that never panned out, Troll Touch's new custom-built systems for the Apple 27-inch Cinema Display should help satisfy your touchscreen hankerings.
The company has two flavors of touchscreen for the display. The first is an internally integrated, high-resolution, analog resistive touchscreen overlay and controller system that replaces the sheet glass that comes installed in the factory model. You can purchase a new display with the touchscreen overlay preinstalled for $2499, or have Troll Touch install the system in your current display for $1499.
The second offering, called the SlipCover, is a $1099 user-installed removable touchscreen system that incorporates the same analog resistive technology and controller as the factory-integrated internal product. Troll Touch claims that the SlipCover system can be installed or removed in minutes.
Both offerings feature 12-bit controller resolution and custom-designed scratch-resistant and contrast-enhanced overlays. Driver and calibration software is included, and both models are compatible with Mac and Windows.
Delivery of the 27-inch systems is slated to begin on or before December 1. A video of Apple's previous generation cinema display with Troll Touch's touchscreen system in action is embedded below.
Read more…