Friendly for Facebook, an iPad app that enhances the social network's Web interface, gained some key new features on Thursday, including photo uploads and multiple account support.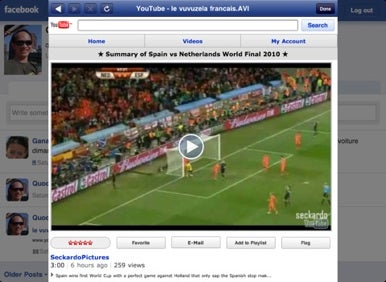 Friendly is basically a site-specific browser built on top of Facebook's mobile-optimized site, but with the addition of a few custom features and fixes that are conspicuously lacking from the Web interface, such as Facebook Chat.
Among Friendly's new tricks is support for multiple accounts. The app's startup page features tiles for at least three accounts, though there is no word on exactly how many accounts Friendly for Facebook 3.0 can handle.
Another perk of the new version is photo uploading. However, though you can add a caption and pick an album for your photos, uploading them is still a one-at-a-time process.
Friendly for Facebook 3.0 also gained birthday reminders, a faster startup time, and enhancements to its built-in browser, which lets you open a general purpose interface for browsing the rest of the Web.
Friendly for Facebook 3.0 is available now in the App Store for $1. It requires an iPad running iOS 3.2 or later.