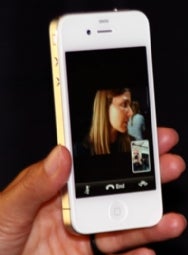 In the wake of the white iPhone 4's latest delay, Apple has apparently excised all mention of the elusive white whale from its online store. In fact, the job is so thorough you might say the site has been…whitewashed.
Ahem. Previously, the site had displayed both the black and white versions of the iPhone 4, along with a notice that the white version was not available either online or for in-store pick-up. Now the white model has completely vanished, plucked from the page as though excised from the very fabric of the universe.
Apple's announcement of the phone's delay on Tuesday came shortly after the company updated its Apple Store iPhone app, in which a glitch briefly showed the white iPhone 4 available for sale.
While plenty of speculation has been offered about the reasons behind the delay—mismatched colors on the device's case and Home button, light leakage that affected the camera, cracks in the casing—Apple has remained typically close-mouthed, saying only that the white model had proven "more challenging to manufacture than expected."
Still, the white iPhone 4 lives on in the minds of Internet theorists, some of whom have suggested that it might finally appear next year as a Verizon-compatible handset. Others, however, think that the disappearance from the store might signal the device's quiet shuffling off the mortal coil.
Frankly, I would almost be tempted to say the device had never existed in the first place, if it were not for the fact that I held one in my very hand in June. That leaves but one logical conclusion for the fate of the white iPhone 4: it was purloined by a cell phone-using time traveler.