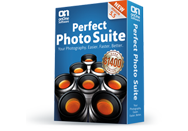 On Thursday at the 2010 PhotoPlus Expo, onOne Software announced and previewed Perfect Photo Suite 5.5, the newest update to its series of Photoshop plug-ins for the Mac, and a new iPad-only version of its DSLR Camera Remote iPhone app.
At the show, the company showcased Perfect Photo Suite 5.5, its update to Plug-In Suite 5, a series of seven plug-ins for photographers that work with Adobe Photoshop or Lightroom and Apple Aperture. The suite features an updated version of Genuine Fractals and a new addition, Perfect Layers.
Genuine Fractals's replacement, Perfect Resize 7, allows for detail-refinement when resizing images and offers a series of interface tweaks for making prints; Perfect Layers allows for working with layered files in multiple programs, including Adobe Photoshop or Lightroom, and Apple's Aperture.
The set requires a Mac running OS X 10.5 or later and Adobe Photoshop CS2 or later— with full specifics found on the Perfect Photo Suite Website—and will be available in December for $500; interested users can pre-order now for $400 from onOne Software's Website and receive a copy of Plug-In Suite 5 in the meantime.
In addition, onOne Software announced the coming availability of DSLR Camera Remote HD, an iPad version of its iPhone and iPod touch remote control app for tethered DSLR cameras. In addition to remote shutter firing, camera settings control, LiveView preview (on supported cameras), and image review, the iPad app will sport a new interface and offer video monitoring for Canon and Nikon cameras capable of HD video recording. The app's expected release date is sometime in late November; the iPhone version currently retails in the App Store for $20.