Medical, dental, and chiropractic offices have another reason to look at the iPad for their daily uses, as MacPractice on Thursday announced that it has released the Web interface of its software for Apple's tablet, originally previewed at Macworld Expo 2010.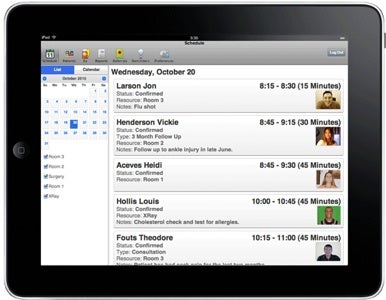 MacPractice makes Mac-compatible practice management and clinical software for physicians, chiropractors, optometrists, and dentists. The company quickly readied a Web interface after the original iPhone was released in 2007, and now it has an iPad interface that can work across the reception desk or around the world.
Simply called the MacPractice iPad Interface, MacPractice's new extension of its desktop software allows users to manage many aspects of their day-to-day business from either the local network or remotely over the Internet. You can view patient information, alerts, and scheduled appointments; add patient information like diagnoses, vitals, and medications; create new patients; keep an eye on daily activity reports; correspond with staff and respond to reminders; and write prescriptions with ePrescribe that sync back to patients's main records in MacPractice on the desktop.
To view a demo of the PacPractice iPad interface, interested offices must register with MacPractice via this form. The iPad and iPhone interfaces are sold together for $800, though new customers can receive a $300 discount with the purchase of any desktop version of MacPractice. The annual "support and enhancement fee" for the iPad interface is $200, and $400 for both iPad and iPhone.