Want to add some zip to this year's office holiday party, or perhaps a kiddy holiday celebration? Use your Mac and an inkjet printer to make temporary tattoos for your fellow revelers. With a page layout program like Pages '09, they're almost as easy to create as conventional print jobs, but a lot more fun.
Purchase tattoo paper
To print tattoos, you'll need special inkjet paper that lets you peel off printouts as flexible, semi-transparent stickers you can apply to skin. However, finding inkjet tattoo paper could take some doing. No craft stores in my area––or many online vendors––had it in stock, so I had to order a package from Amazon. A single sheet of letter-size paper cost me $10, but prices and page counts may vary.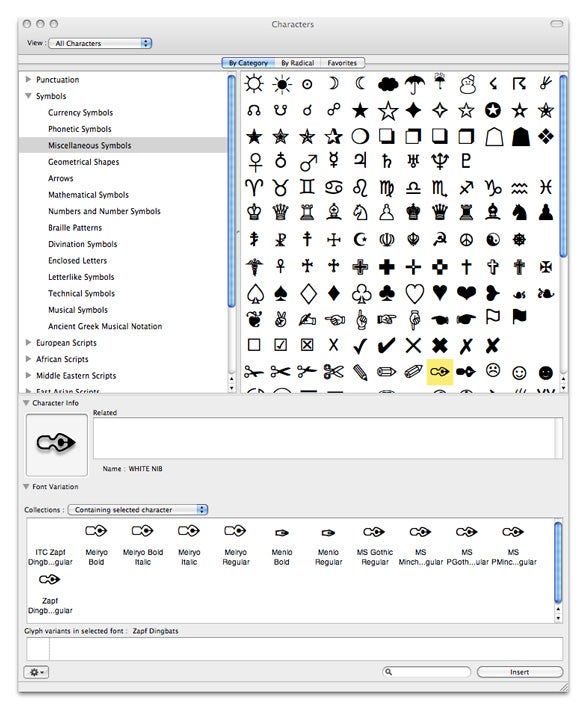 Design your tattoos
Tattoos can be photographs, scanned drawings, favorite quotations, or anything else you can print. Using a page layout program to create them gives you basic design tools while allowing you to easily fit as many tattoos as possible onto a single page. The following instructions apply to Pages '09, but the general principles can be used in applications from Word 2011 to various versions of InDesign.
In Pages, select File -> New From Template Chooser, then Blank Page Layout Canvas. To import photos and scans, drag them into your document from the Finder, or select View -> Show Media to access your iPhoto library. Choose pictures without large white or light areas––they'll be transparent when printed, allowing the wearer's skin to show through instead of the original color.
For extra flair, give your photo a unique shape and border. Select your picture, then Format -> Mask With Shape, and pick one you like. Resize the mask and image by dragging their respective handles, or adjust the slider that appears below the mask to change the picture size. Drag the photo to center it within the shape. Select View -> Show Inspector, then select the image and choose the Graphic inspector to edit border size and color.Anything from your own designs to simple emoticons can make cool tattoos.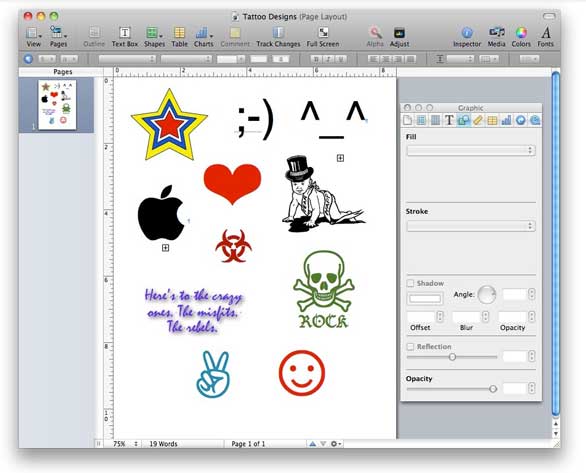 Styled text and shapes also make interesting tattoos. To add either to your page, select Insert -> Text Box or Shape. Replace a text box's placeholder text with a custom message, then choose a new font and style the text in the Format Bar (the Text inspector offers further options). Shapes can be similarly edited in the Format Bar and Graphics inspector. To make a more dynamic design, select your shape, choose Edit -> Duplicate, then shrink and recolor the new shape within the old one. To make these complex designs easier to manage, Shift-select each element, then choose Arrange -> Group to combine them into one object.
If you don't have time to create designs, OS X's Characters menu has numerous tattoo-ready symbols––even a classic skull and crossbones. To add one, click inside a text box, select Edit -> Special Characters, then choose the Miscellaneous category. Pick a symbol and click Insert. The symbol can then be styled and resized like any text.
Print, trim, and apply
Arrange your designs on the page, then follow your tattoo paper's printing instructions. Tattoos can be difficult to peel from their paper backing, and they curl easily as they're removed, so practice with a small design first. Don't pull too quickly, or you may tear the sticker. Apply the tattoo to a clean, dry patch of skin, smooth out any wrinkles, and you're finished! While your work won't last long (temporary tattoos can be peeled off or removed with soap and water), they may make the holidays a little more memorable for kids and adults alike.
[Adam Berenstain is a freelance writer based un upstate New York.]