For years, DevonThink and DevonNote have served as trusty information assistants for the Mac. Now users can bring their documents on-the-go with a new universal iOS app.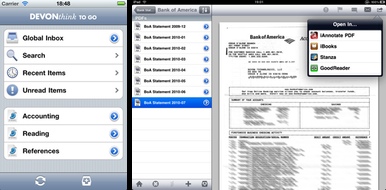 DevonThink To Go is a new travel edition of Devon Technologies's popular document manager and information sifter, bringing its document organization and searching features to the iPad and iPhone. You can use it on its own to organize documents from other apps, create new notes, and search through it all.
The app gets more useful, though, if you also use DevonThink or DevonNote on your Mac. Of course, you can sync your database between devices over a local Wi-Fi network. But if you add news feeds to DevonThink on your Mac, you can read their archived news items on your iPhone or iPad while out and about. Snap a photo with your iPhone, and the Pro Office edition of DevonThink for Mac can perform OCR to turn it into a searchable PDF. Among other symbiotic perks, the password you optionally set to protect your database on the Mac will also be used on your device to deter others from peeking.
DevonThink To Go is available now as a universal app for $15 in the App Store. It requires an iPhone, iPod touch, or iPad running iOS 3.1.2 or later.