About a year ago, a group of developers at Candywriter with a love for word puzzles and Solitaire thought "why not combine the two?" and Word Solitaire was born. Now, after a successful run with that addictive title, Candywriter is releasing the sequel: Word Solitaire: Aurora and it's available for iPhone, iPad and Mac.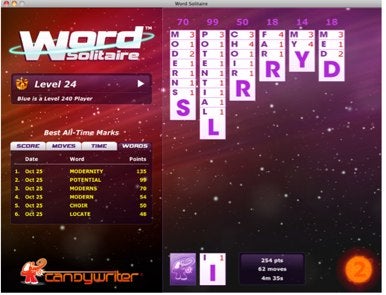 Word Solitaire: Aurora, like its predecessor, uses the basic game mechanics of traditional Solitaire, but instead of numbers or suites, each card represents a letter of the alphabet. Your task is to stack cards on top of one another to create words and expose more letters. Once all provided letters have been arranged into words, you can advance to the next level.
Whereas the original Word Solitaire for iPhone included 25 levels, Word Solitaire: Aurora boasts a 250-level "Campaign" as well as a "Quick Play" mode and a "Global" mode that lets you compete with other user on a daily puzzle. And since most of us play word puzzle games to relax, the new Word Solitaire features a soothing animated aurora background that changes color each day.
Word Solitaire: Aurora costs $1 and runs on iOS 3 or later; Word Solitaire HD for iPad is free and runs on iOS 3.2 or later; and Word Solitaire for Mac costs $15 and runs on OS X 10.5.8 or later.