IK Multimedia's new AmpliTube 2 for iPhone is a free update of its beautifully rendered guitar and bass amp and effects modeling app. New to this version is a single-track recorder and the ability to speed up and slow down songs from your iTunes library to learn or practice. A four-track recorder and five new stompbox effects are available as in-app purchases.
With more than 14 years of experience modeling amplifiers and effects for studio use for both Mac and Windows, IK Multimedia has improved the already impressive sound of its amps and effects. Its five new stompboxes—Graphic EQ, Parametric EQ, Reverb, Limiter, and Compressor—bring the number of available effects to 16. The full AmpliTube app ($20) includes 11 stompboxes; AmpliTube LE ($3) has five; and a free version offers three. You can purchase individual effects from within the application for $2 each.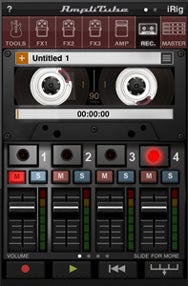 As before, AmpliTube includes a chromatic tuner and a metronome. You can use IK's own iRig to connect your guitar or bass, though other connectors are available. With the full version, you have your choice of five amplifiers and speaker cabinets; the LE and Free versions come with one set. Additional amps and cabinets are available for $3 each. As before, there are 36 numbered preset slots with several of them already configured. Version 2 gives names to the preconfigured settings, but you can change or add your own names. This is much easier than remembering, for example, that preset number 4 is your clean and number 6 is your heavy metal lead setting.
One complaint I had when reviewing the original iPad version of the app (version 2 for iPad is scheduled to arrive at the App Store soon) was the complicated process required to add songs from your iTunes library. Even if a song was already on your iOS device, you had to go to a computer on the same WiFi network as your iPad or iPhone, open a Web browser, and type an IP address into the URL bar. A simple Web page would open, and then you would click on the Choose File button and navigate through your Mac's files to find the audio file you wanted to upload—one at a time, with a 20 song limit.
While you can still add songs that way (the limit has now been expanded to 50 songs), it is easier to connect your iOS device to your Mac and use iTunes' File Sharing feature to find and copy files. Better yet, the new version allows you to use the songs already present on your i-device. Just click on the Import/iPod Library and choose the song and after some quick processing your song shows up in your AmpliTube song window.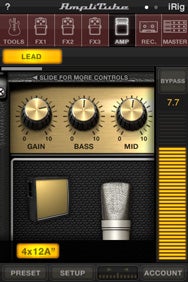 Once you've copied songs to AmpliTube, you can do more with them than you could in the original version. You could already set sections of a song to loop, making it easier to try and learn complicated parts by having the app play the same song segment over and over again. Now, you can also slow down the song to half time without changing the pitch, or for a challenge, speed the song up to double time—again without changing the pitch of the notes.
You can also bring these transferred song files into the built-in recorder and add your own licks to songs by your favorite artists. A simple one-track recorder comes free with each version of the app, while a four-track recorder is available for a $10 in-application purchase. Like all parts of the app, the recorder interface looks terrific. You're presented with a cassette sitting atop the faders and controls for your recording tracks. When you hit Play or Record, the tape rolls. You can play along with the metronome, which doesn't get recorded. It gets trickier when using multiple tracks, as there is no count-in and it can be difficult to sync up the metronome for a second track. I ended up using the built-in microphone to record myself counting in the song and tapping a rhythm to play along with on the other tracks.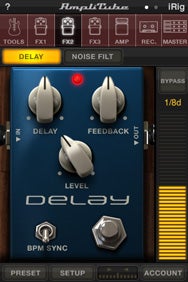 Due to the small size of the iPhone's screen, you have to swipe across several screens in the recorder to get to all of the recording features, like panning and inserting effects. Also, before recording a second track, you must apply the effects to your first track or the next track will record dry. These few extra steps seem inconvenient, until you stop and realize that you're doing this all on your iPhone! When you've finished and mixed your song, you can email or transfer it back to your Mac via iTunes' file sharing.
If you own the app already, AmpliTube 2 is a great, and free update. With welcome new features and refinements to what was already a fun and capable application, AmpliTube 2 for iPhone deserves a place in all guitarists' app collection.