In the short few weeks since its release, the Instagram photo app and sharing network seems to have taken iPhone photography enthusiasts by storm. Instagram links seem to keep floating down Twitter and Facebook streams and a minor update should only increase the trend.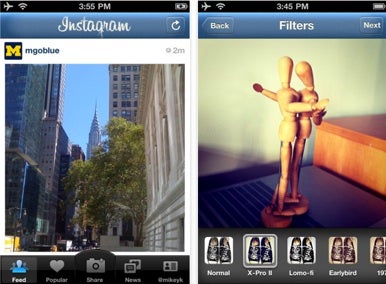 New in Instagram 1.0.2 is support for e-mailing photos and copying their sharing link for pasting into other apps. Uploads can now finish in the background, and new Instagram users can now explore what others are posting without having to sign up for the service. However, if you want to shoot, edit, or post photos with the app you'll still have to create an account—it may be an unfortunate drawback for some, but Instagram is, after all, a free app and service.
You can also now flag inappropriate or copyrighted photos that you see in your news stream and edit your profile from the app (without having to resort to a browser).
A number of fixes and tweaks made the cut as well: photos should now get saved to your device's camera roll, the news feed has been cleaned up, and the camera performance should be a bit snappier.
Instagram 1.0.2 is available now for free in the App Store. It requires an iPhone or iPod touch running iOS 3.1.2 or later.