On the surface, Marketcircle's Billings Pro 1.0.1 looks and feels just like Billings 3 ( ), the personal time billing and invoicing application for your Mac and iOS device. But, while Billings Pro has a familiar feel, its capabilities are broader and better suited to the needs of larger companies that need to track time and expenses and invoice customers in a timely and professional manner. What makes Billings Pro different is the addition of a server component that allows you to centralize your time tracking and allows supervisors to approve invoices. Better yet, Billings Pro's server lets your employees track time remotely via the Web or using the Billings Pro iOS app.
Before you can use Billings Pro, you first need to set up the Billings Pro server application, which can be run on a desktop or server version of the Mac OS. The setup process is straightforward, requiring you to create a database and provide some basic setup information, including an initial administrative user. During the initial setup you also have the option to migrate an existing Billings 3 installation or restore data from another Billings Pro setup. Once the setup process is complete you use the Billings Pro desktop application to connect to the server and begin adding clients, projects, and slips so that you can begin tracking time, expenses, and invoice your clients.
If you've used Billings 3, Billings Pro offers a familiar interface. A button at the top left of the screen lets you toggle between a Project and Account view for your clients. A small sidebar displays several preset filtered views, including client information, recurring transactions, reports, and time sheets waiting approval. The Approvals view is where managers preview, adjust, and approve time sheets before they're sent out to your clients as invoices for completed work. Like Billings 3, Billings Pro ships with 30 beautifully designed, customizable invoices and statements.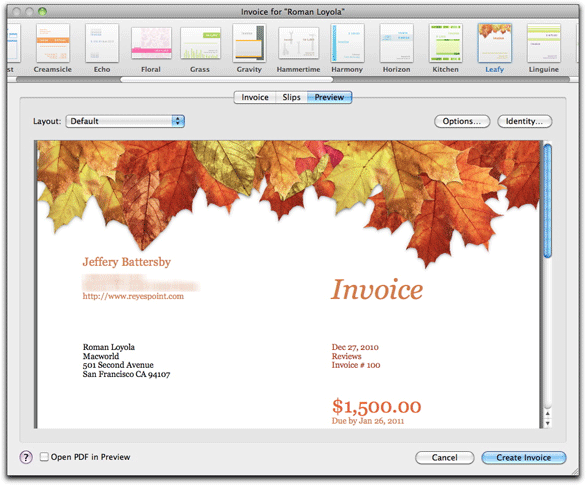 While Billings Pro can be run in demo mode for 30 days, you'll need to purchase and enter user licenses for Billings Pro to be of any practical use. Licenses are purchased on a per-user basis and once purchased you assign those licenses by adding users. Billings Pro offers two different user options: Those with controlled access and those with full access to Billings Pro's features. Users with controlled access are only allowed to use a Web-based time tracking application where they can enter expenses and mileage, and track time related to specific tasks that have been assigned to them by an administrator. Users with full access can make use of the Billings Pro desktop application as well as the iOS version of Billings Pro. These users also have the ability to create new projects and assign projects to other users. I was disappointed to learn that users with controlled access were unable to use both the iOS and desktop versions of Billings Pro, which means that their only option for entering time sheet information is using the Web-based time sheet. The upside to the Web interface is that your employees will never see backend client information, such as how much you're billing customers for your employees labor or how much you may be marking up materials you're selling to your customers.
One of the major benefits offered by Billings Pro is a free service offered by Marketcircle called Switchboard. Switchboard allows users outside your network to link to and sync data with the Billings Pro server sitting behind your business' firewall. Using Switchboard, your users working remotely can use either a special Web site to access their time sheets or, using the Billings Pro iOS app, link directly to your Billings Pro database. In either case, information entered by your employees in the field is synced and updated on your server and any new projects you assign to your employees are pushed out to their devices on when they sync, which defaults to about every five minutes when the app is open. This makes it easier for you to manage the employees working on your projects and, more importantly, helps you to get up-to-date invoices out to your clients.
Besides the fact that the iOS apps were limited to administrative users, there was one other irritating issue that I encountered with Billings Pro, which was that the remote Web time sheets didn't always work. At the time of this review I was in contact with Marketcircle's tech support department to try to resolve the issue, but the long and the short of it is that, after an indeterminate period of time, Billings Pro's remote Web time sheet simply didn't work. I was able to resolve the issue by completely restarting the server, but, obviously, that's an impractical solution. Marketcircle suggested that, instead of using their automatic port-forwarding feature, that I manually open ports on my firewall/router. While this is a workable solution, it may be impractical for some users.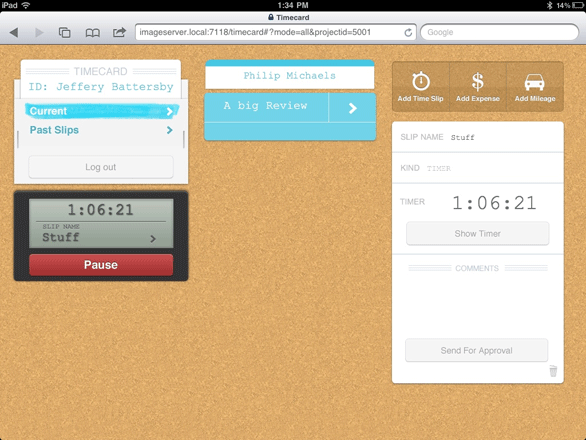 Macworld buying advice
Billings Pro is a superior solution for managing company-wide time billing, client-related expense tracking, and invoicing. While I'd like to see some kind of iOS app for handling time sheets for non-administrative employees, Billings Pro's Web-based time sheets are a good temporary measure, making Billings Pro an attractive solution for managing your business' billing and invoicing needs.
[Jeffery Battersby is an Apple Certified Trainer, (very) smalltime actor, and regular contributor to Macworld. He writes about Macs and more at his blog.]