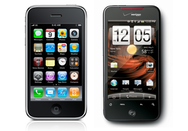 Apple filed two lawsuits against Motorola and Motorola Mobility late Friday in a US federal court, claiming violations of its patents in multiple Motorola cell phones, including the Droid line.
According to the October 29 filings in the US District Court for the Western District of Wisconsin— first reported by the blog PatentlyApple—Apple is accusing Motorola of infringing on six patents, three of them focused on touchscreens. The products that it claims include the infringing technology are Motorola's Droid, Droid 2, Droid X, Cliq, BackFlip, Devour A555, Devour i1, and Charm.
In October, Motorola Mobility filed suit against Apple asking the US District Court in Delaware for a declaratory judgment that Apple had no rights to sue it for infringing 12 patents that it said Apple has asserted in targeting Android-phone maker HTC. None of those 12 patents are being invoked by Apple in its suit filed Friday. Motorola also filed two patent infringement lawsuits against Apple charging violations in the iPad, iPod touch, and iPhone products.
Apple is seeking a jury trial and compensatory damages.