Springpad is a personal cataloging system for iOS, Android, and the Web, that helps you create lists of the things that you like and want and combines your lists with a social networking component, so you can find more things that you might like and share your lists with others. The way Springpad works as a list creation tool is simple, pretty slick, and works the same, with one small exception, whether you're using it on your iPhone, iPad, iPod, or the Web.
When you find something you like, you open up Springpad and add it to your list of "stuff" (developer Spring Partners's word, not mine). Stuff, by the Springpad definition, is virtually anything from recipes to restaurants or books to body shops. Springpad offers you several predefined categories for your stuff, but if a specific category doesn't already exist, you can use the app's notes feature to add anything you'd like.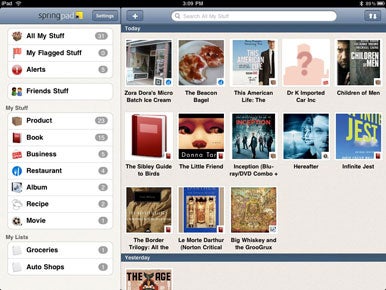 The best way I found to add new items to Springpad was via the app's Spring It! bookmarklet or, if you're using an iPhone or camera-equipped iPod touch, a built-in barcode scanning capability. Scanning the barcode on anything from a bottle of wine to a book kicked off an immediate Internet search for the item. If the item can be found—which happened with the vast majority of items I scanned—Springpad lets you add it to your list with the tap of a button, automatically putting that item in its proper category.
The one downside to barcode scanning is obvious, but important to note. If you're using one of the new iPod touches and you have no active Internet connection, Springpad can't look that item up. You can manually add the item to your list of stuff, but unfortunately, Springpad offers no option for you to save the scanned barcode so that it can be looked up once you're back on the Web.
One of Springpad's more clever features is its ability to take a recipe you've added to your stuff and create a shopping list based on the items in that recipe. I found this to be a very useful feature that made typing a shopping list completely unnecessary. What I'd really love is to have Springpad push that list to other mobile shopping offerings, such as Sophiestication's Groceries app.
It's important to note that everything you add to Springpad syncs with a Web-based account you have to create in order to use the app. Once Springpad's servers crunch your lists of stuff, you'll start receiving "alerts" about some of the things on your list. So, for example, when I created a grocery list from a recipe I'd gotten off the Web, Springpad offered me a $1 coupon for olive oil, which was an item on my list. While some of the alert information was useful to me—you bet I'm interested in Sufjan Stevens' concert schedule—some of the alerts were kind of spammy, especially when I discovered that the olive oil coupon I was offered was actually a link to a "print your own grocery coupons" Website.
Finally, Springpad's social networking component was not as useful as it could have been. Springpad's default option for helping you find friends is to have you invite all your friends from Facebook, Twitter, and your address book, which isn't exactly my idea of a friendly kind of thing to do. Another alternative is to search for someone with similar "likes." The problem with that was after several searches for Sufjan Stevens, the San Francisco Giants, and other similar options, all I got back were big fat zeros. Typing in something more generic, like baseball or pizza, resulted in a list of users whose lists didn't really contain any baseball interests or pizza-related items. Clearly, Springpad's social networking features need some work.
Springpad works well when it comes to collecting personalized lists of stuff, and I was particularly pleased with the ease of using the iPhone app's barcode scanning features and creating grocery lists from a recipe. But overall it seems that Springpad as a social networking/list sharing service is still a work in progress.
[Jeffery Battersby is an Apple Certified Trainer, (very) smalltime actor, and regular contributor to Macworld. He writes about Macs and more at his blog.]