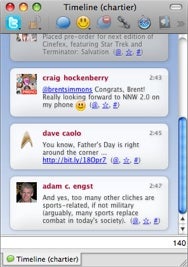 After debuting as a beta over a year and a half ago, Adium 1.4 has now been officially released, adding support for two new services and a ton of other new features and fixes.
The new Adium adds support for something old and something new—IRC and Twitter, to be exact. You can add multiple Twitter accounts and enjoy many of the basic features of the social networking service. IRC is also well supported, with a number of new preferences to help bend Adium to your chat room whims.
The Adium development team says this release is "jam-packed with hundreds of other new features and bug fixes." Stand-outs from Adium's lengthy list of release notes include: the contact list can display contacts in multiple groups; instant searching now works in any window configuration (select the list and start typing a name; super handy); a revamp of the built-in message styles; faster launch time; the ability to specify a different style for group chats (including IRC); and much more.
As usual, Adium 1.4 is donationware and it requires Mac OS X 10.5.8 or later. You can donate to the project from its Contributions page or, for the first time, buy a shirt from Adium's new merchandise store.