Remote HD, an app that turns any iOS device into a remote for Macs, PCs, and first-generation Apple TVs, has been updated with new graphics and new features.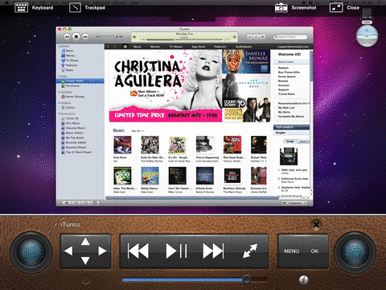 The app from Applied Dynamic works like an Apple Remote, letting users operate iTunes and other media software from the comfort of the couch—it also converts the iPhone, iPod touch or iPad into a wireless keyboard or trackpad for controlling your computer. In addition, the app lets users view and operate their computer desktop from a remote location, as well as stream music back from that computer to the iOS device.
For users of the iPhone 4 and the latest-model iPod touch, the 4.2 app update includes graphics optimized for the Retina display on those devices, as well as a new trackpad interface on all iOS devices. Remote music streaming can now be used in the background, and users can receive push notifications when their remote machine is turned on. The app also offers support for Fire Core MiRow, a Front Row replacement for the Mac, and can be controlled using the remotes on Apple's earphones or the Apple Remote in conjunction with the Universal Dock.
Remote HD 4.2 costs $8, and is a universal app compatible with any iPhone, iPod touch, or iPad running iOS 3.1 or later. A Lite version that lacks the trackpad, keyboard, Apple TV control, and media streaming features is also available for $2.