It's often tough to justify purchasing a paid app that duplicates many of the features in a free offering, but Podcaster—a $1 app from Alex Sokirynsky—is so much better than the iPhone's native iTunes app that the cost is worth it.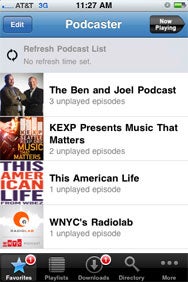 Podcaster and the built-in iTunes app both start out in the same place: They let users wirelessly download or stream podcasts on their mobile device using 3G or Wi-Fi. Longer podcasts mean longer downloads on both apps, but both are surprisingly quick at delivering new episodes.
After that, though, Podcaster has all the advantages. For example: You can find podcasts more easily on the paid app. The iTunes app is built around offering the most popular podcasts, but Podcaster lets users find and download feeds for relatively obscure offerings that don't make Top 10 lists. If your tastes are more esoteric than the latest episode of This American Life, you'll want Podcaster.
Podcaster's other edge? You can subscribe to podcasts so that new episodes automatically appear in your directory; iTunes users must manually download each episode. And Podcaster users can do all their business—downloading and listening—in a single app: iTunes users must shift to iPod to hear what they've downloaded.
Whether Podcaster can remain on top remains to be seen. For now, though, its convenience and versatility make it worth the money.
[Joel Mathis is a freelance journalist and political columnist for Scripps Howard News Service. He lives in Philadelphia.]