Legal Radiation Team's Tap Disc for the iPhone is a genre-defining sci-fi casual game about miscroscopic aliens, teleportation, and spaceships. Thanks to an intuitive user interface and addictive game levels, Tap Disc is an enjoyable diversion into a weird world.
Tap Disc is about a war between two alien species: the "good" Melz and the "evil" Radz. The Radz, using a secret weapon, stranded the Melz on Earth. On our lovely blue planet, the Melz people are stuck in their spaceships. In practicality, spaceships are microscopic, and lack navigation, so they bounce around surfaces uncontrollably. You, as the omnipresent Melz leader, have to use wormhole-like portals to transport the ships back to your homeplanet.
In gameplay terms, this means that each level gives you a top-down view of a recognizable domestic playing surface. With the exception of a pool table, most surfaces are unidentifiable but look like polished air hockey tables. Spaceships appear as tiny disks that fly about frictionless on your screen. Disks can appear as white, orange or red. Your object is to tap and create circular portals to catch the spaceship "discs."
For the first few seconds of each portal's existence, it will appear white. It will then turn orange for a few seconds, then red, and then disappear. White disks can only go through white portals, orange disks can only go through orange portals, red through red, etc. It is your job to guess a disk's trajectory, open a portal in its path, and hope that by the time the disk hits the portal, the portal will be the exact color it needs to be to transport the disk. Every time you successfully teleport a disk, the game awards you points. Every time a disk hits the wrong colored portal, the game deducts points. You need points to progress to other levels.
As you are opening portals, you need to be aware that the evil Radz weapon is "taunting" your comrades' ships. You will see the weapon as a multicolored circular disk that roams around your screen. Its affect on each ship is different. If a white disk hits it, it will turn orange. If an orange disk hits the weapon, it will turn red. Red disks will explode if they touch the weapon. You also have to be aware that if disks touch each other, they tend to explode. If three disks explode in a level, you have to start the game over again.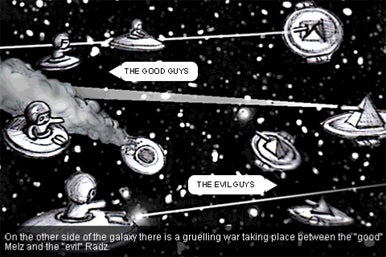 You can play Tap Disc in Easy, Normal or Hard mode. More disks appear on screen during hard levels than in easy levels. Hard level disks also move faster than easy level disks.
I found Tap Disc's game mechanics to be fundamentally solid. Graphically, the game could be more colorful, but its structure doesn't require it to be so. The game's sound effects are a bit annoying, but that's why volume adjusters were invented. For a game with such an intuitive interface, it's surprising how challenging game levels can be. It can be quite difficult judging the correct path of a disk, so judging when and where to open a portal takes a lot of practice. If you're like me, you will still find yourself opening portals at the wrong time in advanced levels. However, if you're also like me, you won't mind—if the game is too easy, after all, then where's the fun?
[Sam Felsing is an editorial intern for Macworld.]