The iPhone and iPod touch provide the perfect combination of portability, power, and screen size for health and fitness apps, which are frequently (and often best) used when on the go. This is because remembering what meals and workouts consisted of, if not logged soon after completion, can be difficult. And it's easy to carry an iPhone or iPod touch with you while you're at the gym or running on the roads or trails.
This simple fact—a less convenient form factor—is part of what makes iFitness HD for the iPad less useful than its more compact counterpart. Medical Productions, the app's developer, has a well-deserved reputation for frequent and useful updates. (The iPhone edition of iFitness is already at version 9.7.) And it seems to have been cautious with the big-screen edition, taking enough time to produce iFitness HD that it wasn't available until months after the iPad's release.
iFitness HD is a big and fairly complex app; it includes descriptions and illustrations of more than 330 individual exercises (according to the developer), accompanied by descriptive text (here's what you're doing and why), still images, and brief-but-useful "how-to" videos. The majority of the described exercises focus on strength and flexibility and require access to a fitness club or home gym equipment such a free weights setup. Some require little more than a yoga mat or a chair or bench.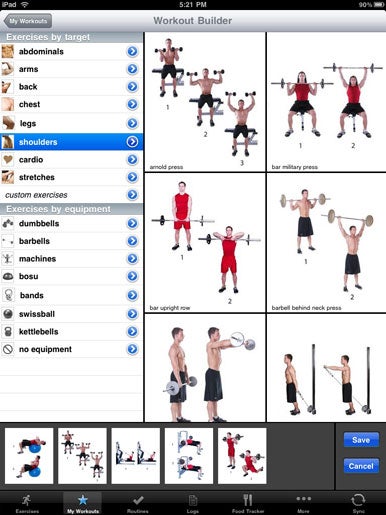 Aerobic exercises such as jogging and swimming are listed, but seem to exist in a strange place. While "jogging" is an exercise, a strength-conditioning routine focusing on runners has been included. You can enter in data about your running and swimming workouts, and even make your own custom routines. But serious runners and swimmers won't find references to or distinctions made between, for example, interval and tempo and endurance training—or even breaststroke and butterfly, for that matter.
But if general fitness is what you have in mind, iFitness HD provides copious information, including 20 pre-designed routines for various goals ("weight loss," "strength building") and sports ("basketball conditioning" "expert golf program"). It enables you to track workouts by exercise, repetitions, sets, time, sequence, and weight lifted. You can track and view charts of your weight and BMI (body-mass index).
The app also includes a daily diet tracker, which enables you to input foods eaten. This module is rudimentary compared to existing Mac and PC programs and Web-based calorie-and-nutrition tracking programs. You can only enter foods eaten each day (not by meal), and the built-in database is, at best, a work in progress. It can be inaccurate, pegging one 20-ounce bottle of Gatorade G2 as a 500-calorie beverage; in fact, it is 50 calories.
Keeping in mind the developer's excellent record of frequent updates and bug fixes, it's still worth noting some of iFitness HD's drawbacks. When I used the food tracker, the app often crashed. The many different capabilities seem, at this point, to be more like a patchwork quilt than a truly integrated app. For example, the food tracker enables you to set a weight-loss goal and automatically suggests daily calorie limits to achieve your goal. But the fitness side of the app doesn't track calories burned (as do many diet tracking programs). To its credit, Medical Productions recognizes the diet tracker's limitations and recommends MyNetDiary, another iPad app, as "a more comprehensive" alternative.
Like many other data-intensive apps, iFitness enables you to sync data to a "cloud" location; unlike many apps, there's no Website you can visit to view the data (or enter it in, if you don't have your iPad available). Syncing is for data backup and recovery only.
iFitness HD is a very good app that, at worst, can be said to suffer from trying to do too much. Before buying the app, it's worth considering whether you want to use the iPhone or iPad version, as there's a real tradeoff between the small-screen portability and the convenience of the iPad's big screen, which makes text more legible, data entry easier, and graphics more useful.
[Jeff Merron is a freelance writer and editor living in North Carolina.]