Jawbone—known for its numerous Bluetooth cellphone earpieces—today unveiled its first foray into the Bluetooth speaker market: The Jambox. True to Jawbone form, the tiny Bluetooth Jambox is available in four different colors (blue, red, black, and gray), each with its own design pattern.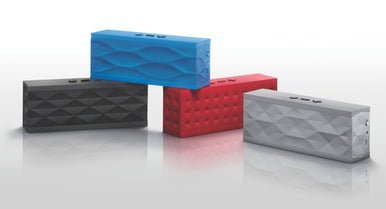 Jawbone calls the Jambox "the world's first intelligent wireless speaker." That's because you can use the company's MyTALK service to install apps onto the speaker via micro-USB: new voices (for spoken messages like battery life remaining), along with DialApps (for functionality like voice-to-SMS, listening to emails, or transcribing posts to Twitter and Facebook).
The Jambox uses the proprietary acoustic technology of Dr. Godehard Guenther, who also designed the SoundMatters FoxL v2, which sported a similar form factor and big sound.
You can pair the Jambox with two devices at the same time—including an iPad and an iPhone—by installing Simultaneous Multipoint via MyTALK. And the Jambox can double as a speakerphone when you're on a call.
The $200 device is tiny, weighing just 1.5 pounds and measuring 6 inches long by 2.24 inches wide by 1.6 inches tall.
The Jambox is available now from Jawbone's Website, and will be on sale in Apple Stores by mid-November.
Updated 6:22 PT with correct name of designer. Updated 7:20 PT to clarify design details.