LeftCoastLogic, makers of a slew of iOS apps prefixed with "Smart," has released Smart Pad, an app that integrates task management, a calendar, "HyperNote" organization, and more in one mega-day-planner for the iPad.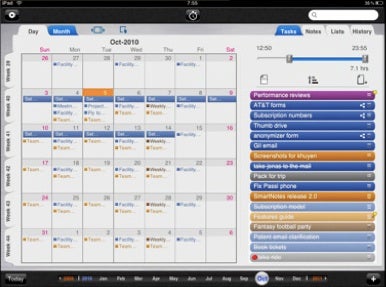 Smart Pad looks to be taking on the likes of Pocket Informant, as it offers a one-stop-shop of task, calendar, and note management, as well as a timer and the option to sync events (but apparently not tasks) with Google Calendar, and tasks with Toodledo. The app looks like it has a rich, tabbed interface, as it can display both a calendar and task list in either portrait or landscape mode.
LeftCoastLogic also boasts about the flexibility of its notes and a feature called SmartTime, which can automatically schedule your tasks in between events you already have scheduled for the day. Notes can also be created on their own, attached to tasks or events, or used to create new events.
There are plenty of other features to make Smart Pad worth a look, including: an often-requested calendar week view (hint hint, Apple); sorting tasks by other criteria and using basic elements of the GTD philosophy; the ability to time tasks, events, and phone calls, then export the records as an Excel spreadsheet; and backing up your entire database via e-mail.
Smart Pad is available now in the App Store for $19. It requires an iPad running iOS 3.2 or later.