At a Glance
Expert's Rating
Our Verdict
One of my favorite things about Roku's line of video players is that they're incredibly small—so small, in fact, that I often travel with one, since all I need is a TV and a network connection and I've got access to my entire Netflix instant queue. The new Roku D-series boxes are even smaller than their predecessors, notably less tall and with cute curved edges (and a little blue fabric tab that makes them look like they escaped from some alternate-universe Levi's factory). They're 4.9 inches square and 1.2 inches high, and weigh just 7.2 ounces. (That makes them bigger than the new Apple TV, but a couple of ounces lighter.)
The Roku players are tiny devices without any hard drives, designed specifically to play back video over the network on your TV set. All models support playback of a growing collection of multimedia "channels," including Amazon Video on Demand, Netflix streaming, MLB.tv, Pandora, Hulu Plus (in a forthcoming release) and more.
Unlike Apple's one-size-fits-all $99 offering, Roku's got three different models. All of them offer composite and HDMI outputs, as well as Wi-Fi and ethernet networking. $60 gets you the base model Roku HD, which supports streaming video up to 720p. (Previously Roku's $60 player didn't support HD video at all, so this is a step up.) The $80 Roku XD adds support for 1080p video and 802.11n networking. The $100 Roku XDS ups the ante with dual-band 802.11n networking, support for component video and Toslink optical audio out, and comes with a USB port.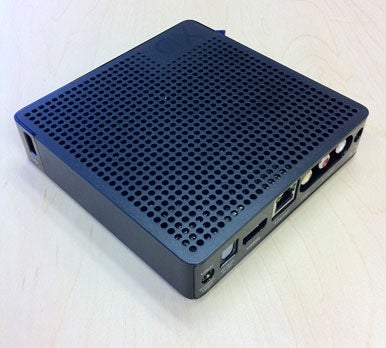 And yes, you can copy videos onto a hard drive or keychain drive and attach them to the USB port on the Roku XDS. The company is working on a new channel that will play back videos attached to the USB port. I tested out a beta version of the channel, and it worked, playing back 1080p movie trailers with no problems. It also played back 720p and lower-resolution fare easily. Bad news for fans of esoteric video formats, though: the Roku boxes support H.264 MPEG-4 video—basically the same formats that most Apple devices play. The only real difference is that the Roku XDS will play up to 1080p video, while the AppleTV can't handle more than 720p.
The new Roku boxes also come with a new remote, and on the $80 and $100 models the remote offers a few new buttons, most notably a skip-back button that lets you replay the last few seconds of content without re-buffering the entire video stream.
On the software side, these Roku boxes are more or less identical to their predecessors. The Netflix interface is very nice ( Roku recently overhauled it, and it shows), it's easy to find, buy, and play back Amazon Video on Demand choices, and I've often enjoyed playing Pandora or watching a video podcast via one of the third-party channels.
Right now, the Roku boxes match up with Apple TV in terms of specs. The XDS can stream 1080p video, but given the bit rates and broadband connections involved I'm not convinced it will result in noticeably better quality video output than standard 720p HD video. The libraries of Amazon Video on Demand and iTunes are comparable, and both companies' products support Netflix streaming. Roku's boxes are more flexible because they support a plethora of third-party content channels, while (at least for the moment) the Apple TV is limited to the content partners Apple has coded right into its box.
The biggest difference between the two boxes is how they handle "sideloaded" video content. The Apple TV will stream any compatible video from a Mac or PC in the vicinity running iTunes; with Roku, you need to attach a device to the USB port found only on the high-end XDS model. (And both limit you to the H.264 video format.) Roku devices can stream networked video from within your home through the use of third-party channels. These channels are generally "private" and unsupported by Roku; as long as Roku refuses to build in home-network streaming to its product itself, it's hard to recommend these devices for that purpose.
Macworld's buying advice
If you don't have a large investment in iTunes video content, you'll find the Roku D-series boxes to be quite comparable to Apple TV, and at lower prices. If you're a fan of a content stream not supported by Apple—Major League Baseball and Hulu Plus come to mind—you'll find that Roku's broader selection of third-party content is a major advantage. People with a big stash of iTunes-compatible videos on their local network will be disappointed by Roku's lack of official support to stream those videos over their local network. But until Apple opens up the Apple TV to a broader range of third-party content, the Roku video players' flexibility will give them a distinct advantage.