If you work only with basic word processing documents, then the Print dialog in Mac OS X is really simple: just tell it which pages, how many copies, and to which printer, and then you can relax and sip your latte.
But when working with a complex application such as QuarkXPress or Adobe InDesign, there are dozens of choices based on what you've created, what kind of printer you're using, and what process you use to produce your final product. Here's a down-and-dirty overview of what you need to know—and what you can ignore—in QuarkXPress's Print dialog. (If you're in InDesign user, see this overview.)
QuarkXPress groups your printing options into 13 logical panels that change according to the printer you've chosen. If you use a desktop inkjet printer, your options will differ from a PostScript laser printer or an imagesetter. The first few panes are likely the only ones you'll ever use, unless you're running an output service or a printing company.
No matter which pane you're working on, the top area of the dialog box remains the same, showing a preview of how your page will print on your chosen printer and paper, and giving you access to some universal options.
First, you'll choose your printer, and optionally choose a Print Style for your current job. Print Styles are collections of Print settings that you can save for future use. To create one, just make all the choices you need, in all the panes, and then choose New Print Output Style… from the popup menu. You can also create and edit Print Styles by choosing Edit – > Output Styles.
Making your way down the options list, indicate how many copies you want, which pages to print, and at what scaling percentage. Then click any checkboxes that you need: if you're printing multiple copies, the Collate option lets you print them in collated sets rather than as multiple copies of each page; if your Layout has facing pages (as in a magazine), the Spreads option will print those pages side-by-side on your paper; if your printer delivers pages to you with the image facing up, use the Back to Front option so the finished job will have your pages in their correct order; to shrink or enlarge your page to fit the printable area of the paper in your printer, use the Fit Print Area option. When you choose the Fit Print Area option, QuarkXPress calculates the necessary scaling and helpfully displays it the Scale field.
If you're printing to a PostScript printer, the Device pane lets you choose the appropriate PPD (PostScript Printer Description) file for that printer. The PPD tells QuarkXPress details about your printer, and what it's capable of doing. My printer lets me choose a paper size and the position I'd like the page to appear on it, along with the resolution (dpi) I'd like my printer to use. Negative Print reverses blacks and whites, for printing on film. If you ever have a document that won't print, the PostScript Error Handler option is incredibly handy. It tells QuarkXPress that if there is a PostScript error when printing this Layout, then stop printing after the last successful page item, then print the page position and attributes of the page item that caused the error.
The Pages pane lets you rotate or flip the page on the paper, print multiple pages as small thumbnails on one sheet, and force QuarkXPress to Include blank pages—otherwise, blank pages are ignored when printing. If your document page is larger than the paper in your printer, you can use the Page Tiling option to split it into pieces that print on multiple sheets that you can tape together.
The Colors pane lets you control how colors are printed. If you're using a laser printer, you'll most often use the Composite mode, and then under Setup choose either Grayscale or Composite RGB. You'll also choose Printer under the Halftones popup menu, unless you want to see how your images will look if printed with different halftone frequencies—in that case, you'll choose Conventional and the Frequency you want. These can be fun to experiment with, but they're mainly used by professionals who understand how images print on a printing press. If you're using a color inkjet printer, these controls and the ones below them will be grayed out.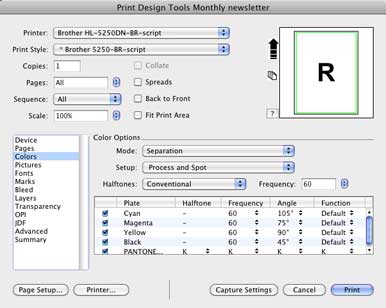 The Colors pane also lets you print separate pages for each color used in your document. Printing pros use these controls to print out the plates they need for reproducing artwork on a printing press. Designers can use this pane to see if they've inadvertently used colors they didn't intend to—the lower box lists only the colors used on page items. Use the checkboxes to print only the plates you want.
The Pictures pane controls how the pictures on your pages will print. Under Output, you'll usually choose Normal. But you can also choose Low Resolution to speed printing when picture quality isn't paramount, or Rough if all you need are boxes that show where pictures will be.
The Data field is normally used for troubleshooting. Keep it on Binary or Clean 8-Bit unless you have an older PC network that requires ASCII (this is extremely rare).
The Overprint EPS/PDF Black option forces every black object in an imported EPS or PDF file to print on top of the items beneath it. This option is mostly used by output providers.
The Full Resolution TIFF Output option tells QuarkXPress to send all the data in imported TIFF images to the printer, rather than downsampling them to a resolution appropriate for your printer. Output takes longer this way, but can help if you see unexpected blocky artifacts in your printed TIFF images.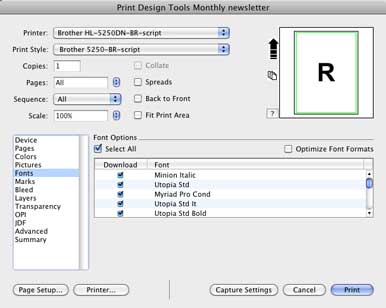 The Fonts pane is useful only if you have manually downloaded some fonts to your printer's memory or hard drive. If you have, then you can deselect those fonts to improve printing performance. If you're using Asian or Arabic fonts that contain thousands of characters, the Optimize Font Formats checkbox is your friend—it will send only the data necessary for your specific document, rather than the entire font.
The Marks pane adds registration and crop marks to your page when printing on paper that's larger than your page. If you click-and-hold on the question mark at the lower left of the preview, you'll see a legend that explains what each of the colors indicate. As you may have guessed, red indicates areas that won't fit on your paper.
If you have page items that extend off the edge of the page, the Bleed pane lets you control how those are handled. The Page Items control cuts them off at the page edge, while Asymmetric and Symmetric lets them print beyond the edge of the page. Normally, only output providers will deal with this pane.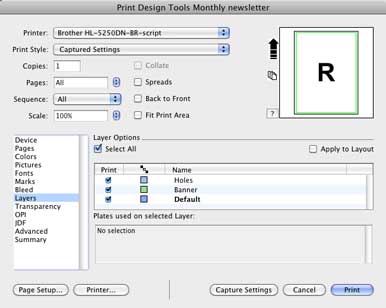 The Layers panel lets you change the visibility of the Layers you've created in your document. If you need to print only certain layers, this feature is more efficient than changing the visibility of the layers in the Layers palette (and then remembering to change it back after printing!). Instead, tick the checkboxes here for layers you want to print—your changes won't affect your document after printing, unless you also tick the checkbox labeled Apply to Layout. Then, any changes you make here will also occur when you switch back to your document.
The Transparency pane is used by output professionals to achieve the results intended by the designers, but that are often inaccurate due to the way PostScript works. Use it to control the resolution of transparency effects.
The OPI panel is used by professionals in workflows where the original, high-resolution images are stored on a server and desktop computers use low-resolution proxies instead.
If you use the Job Jackets feature in QuarkXPress, the JDF (Job Definition Format) panel lets you choose a Contact file for this specific print job. The JDF panel is used when your project is part of a system that controls the colors, styles, and output specifications using the Job Jackets feature in QuarkXPress. Most people don't use it.
The Advanced panel provides access to any advanced features in your printer. In this case, my laser printer can interpret either PostScript Level 2 or 3.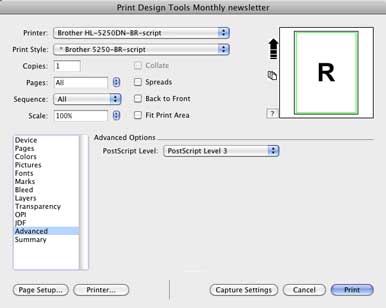 One bit of useful information here that isn't easily available elsewhere is the Imageable Area of your current printer and paper. This is the area on the paper that your specific printer is capable of using.
The buttons along the bottom of the Print dialog are also quite useful. If you're using an inkjet printer, some of its options may only be available with the Page Setup… button.
The Printer… button gives you access to printer-specific options such as printer presets, color management, and ink and resolution settings.
I can't count the number of times that a Print dialog option made me remember a change I needed to make in the document. So, the Capture Settings button has become a good friend—it tells the Print dialog to remember everything I've done, and then return me to my document. When I open the Print dialog again, my previous settings are maintained.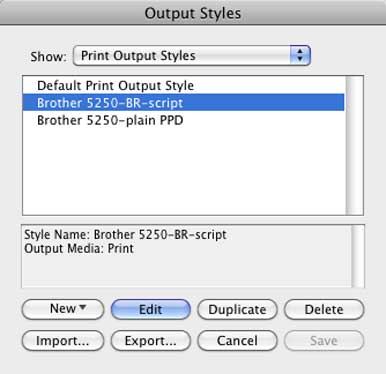 If you've read this far, you may be out of breath and dreading the next time you encounter the Quark Print dialog. But remember: you're likely to have only one or two common uses for each printer you own. Smart QuarkXPress users create an Output Style for each printing scenario and then choose it from the Output Style popup in the Print dialog. To create an Output Style, just make all the appropriate choices in the Print dialog panes, then choose New Print Output Style… from the Print Style popup menu.
If you need to make some changes to your Output Style, or Import/Export for sharing Output Styles with others, just choose Edit -> Output Styles… to open this dialog box.
Armed with often-used Output Styles and a basic understanding of the first few panes of QuarkXPress' print dialog, your printing experience can be smooth and easy—no matter what kind of scary deadline you're facing.
[Jay J. Nelson is the editor and publisher of Design Tools Monthly, an executive summary of graphic design news.]