Among family and friends, The Photographer is the person who's often called upon to shoot pictures in virtually every situation imaginable. Some of these circumstances may be unfamiliar, but The Photographer is expected to handle them like a pro anyway.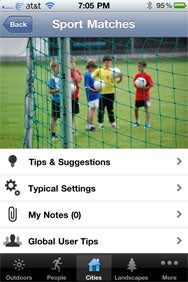 If this situation sounds familiar to you, let me introduce my new friend, PhotoCaddy. The $4 iPhone and iPod touch app from Aspyre Solutions is like having a professional photographer at your side giving you advice before you shoot.
The app has sections that cover practically every photographic situation imaginable, from shooting flowers and pets to street performers and food. The tips provided get right to the point so you can read the whole thing in just a few seconds and be up and ready to shoot.
The Typical Settings section of each entry gives even more concise advice, with common camera mode, f-stop and ISO settings at a glance. These may not always be where you want to shoot, but they certainly give you a starting point if you are whipping out your camera in an unexpected situation.
In addition to an area for recording your own notes, PhotoCaddy offers user tips, which are often very insightful. The advice given is usually solid, although not always deep and detailed.
Worth mentioning is the Essentials section of the app, listed under the More tab. This area offers a virtual crash course in the basics of photography; it's concise and well written, probably better than many texts on the subject.
Combine all of these features, and you're left with an app that could be the core of any basic photography class—one you can take with you no matter where you go. At $4, PhotoCaddy's wealth of knowledge is a steal for most photographers and easier to carry around than any camera guidebook.
[ Jeff Phillips is an educator, photographer and technology advocate. Find him on his blog or podcast.]