How many times have you overslept and been late for an appointment not because you stayed up too late the night before, but because you simply hit the snooze button one too many times? If you're not a morning person—and let's face it, who is?— Cause Technologies's Code Clock alarm app could help get you out of bed on time.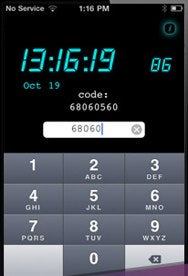 Code Clock works like a typical alarm app, but rather than providing a merciful "off" or "snooze"button, the app forces you to enter a four- or eight-digit code in order to deactivate the alarm. The code appears right above a numerical keypad, so you won't be called upon to perform feats of memory right after you've been jarred awake from that dream about your eighth-grade gym class. Instead, you just punch in the number on the screen, which hopefully provides just the jump you need to start your day.
The app randomizes the numbers of the code each time to prevent you from being able to groggily enter them on autopilot, and you can choose to wake up to a number of alarm tones within the app or to a song stored on your phone.
Code Clock costs $1 and runs on iOS 3.0 or later.