Moving your company into a shiny new office can lead to numerous favorable results: happier employees, increased productivity, and even artsy photoshoots, to name a few. The large, collaborative chalkboards in the new office of Basecamp developer 37signals happened to inspire the company to build Chalk, a free Web app that lets you draw on your iPad using the Safari app—even when you're offline.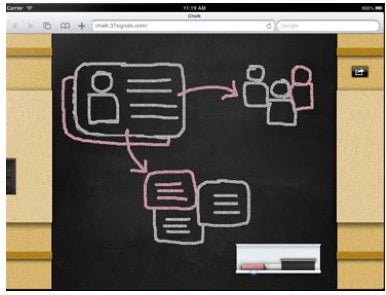 Chalk was put together by a couple of 37signals employees during their spare time. Since it's a Website and not an actual app, Chalk was spared the App Store approval process, and since it's programmed using technologies 37signals employees were already familiar with, the app took only a few days to write.
To use Chalk, simply visit the Chalk Website on your iPad and you're good to go. Chalk's interface is minimal and straight-forward: select either a white or red chalk to draw on the board, and select the eraser tool to erase. Using the tap-and-hold gesture, you can save your drawing to your iPad's Photos app; from there, you can attach the saved drawing to an e-mail or sync it to your Mac. If you bookmark Chalk or add it to your iPad's home screen, you can even use the Web app when you're offline.
Check out a video of this handy little Web app in action: