Everyone scares a little easier around Halloween, and Mickey Mouse, Goofy, and the rest of the Disney characters are no exception. In Disney Publishing Worldwide's interactive story app for iPhone and iPad, Mickey's Spooky Night Puzzle Book, younger kids can tap through a mildly creepy story. The book also features a couple activities to keep them busy along the way.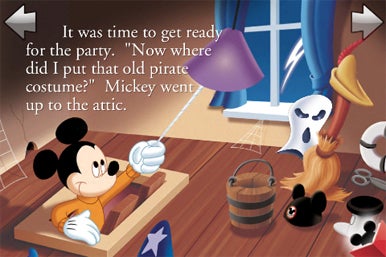 The graphics within the app are classic Disney. Mickey and the gang wear bright, colorful costumes, some of which are recognizable from other Disney stories. While the scene is seasonally decked out with spooky décor, all bats, ghosts, and creepy shadows are still extremely child-friendly. Even the creaky, spooky background music isn't scary enough to induce nightmares. The app is easy to navigate as well; big arrows at the top corners of the screen turn the page and a small set of mouse ears in the bottom right leads you to settings and options. Here, parents can access a unique feature that allows them to record their own voice reading the story, which, when saved, will play back in place of the standard voice-over.
The ten-page story depicts Mickey and friends getting ready for a Halloween party. As you tap through the tale, the app offers several modes of kid-friendly interaction. Four pages of the book collapse into six-piece puzzles, which can be dragged into place to recreate the scene. At the beginning of the story, readers are instructed to find ghosts hidden throughout the pages. A tap to one of the spirits (who look more like a cute floating table cloth than one of the ghoulish undead spirits from any horror movie) sends them floating out of the scene, howling and moaning as they leave. The last page of the story features a matching game where players align the ghosts they've collected with their accompanying shadows.
Overall, Mickey's Spooky Night Puzzle Book isn't terribly dense with activities. For a paid app, I wouldn't mind a longer story, or even another activity or two to keep kids interested for a bit longer. Still, Disney consistently offers age-appropriate games and books, and this is no exception; for a nice Halloween story for small children, Mickey's Spooky Night does the job.
[Stephanie Kent is an editorial intern for Macwrold.]