What happens when you apply the concept of origami—the Japanese art of folding paper—to an iPad slip sleeve? You get the new Incase Origami Sleeve for iPad: a protective neoprene slip sleeve for the iPad that folds not into a swan or turtle, but into a viewing stand that supports the iPad in either landscape or portrait orientation.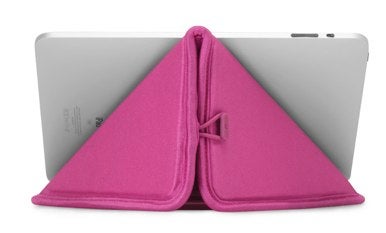 The $35 Origami Sleeve, available in black or pink, boasts form-fitting construction and coddles your iPad with its plush faux-fur interior. After removing your iPad from the sleeve, you can fold the sleeve's top left and right corners back and latch them together, forming a pyramid-style stand that props your device up at a comfortable viewing angle.
Considering the trend of new iPhone 4 cases sporting built-in stands, it's nice to see an iPad case that offers similar functionality.