iPad and iPhone bloggers, novelists, and those simply in need of a little more oomph than Notes can wake up to good news this morning, for Second Gear has updated Elements, its Dropbox-powered text editor.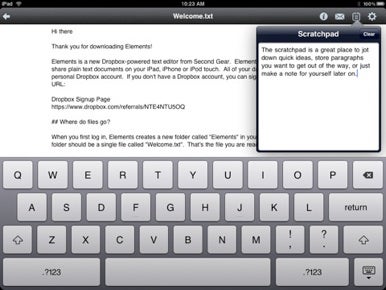 Atop Elements 1.5's list of new perks is a much-requested feature: folders. Yes, they're not just for the Finder and your iOS apps anymore—you can now organize your Elements documents into all the folders and sub-folders you like. This is a welcome evolution from Elements 1.1, which brought improved file management features, among others.
Also new to this universal app is support for Markdown, the plain text markup language created by Daring Fireball's John Gruber, that makes styling text a little more bearable. You can write in Markdown and then preview the file in rich text, styled with HTML, to see the final result.
In addition, Elements 1.5 also adds the ability to create an account with Dropbox directly from the app itself, and allows users to choose between e-mailing files as attachments or inline as part of the message.
Rounding out Elements 1.5 are performance improvements, better syncing, and French and German localization. The app is available now in the App Store for $5. It requires an iPhone, iPod touch, or iPad running iOS 3.2 or later.