Readdle has updated Calendars, its Google Calendar app for iOS, with a few interface tweaks and long-awaited support for Google Tasks, now making it possible for users to manage tasks and events, create to-do lists, and sync that information with a Google account.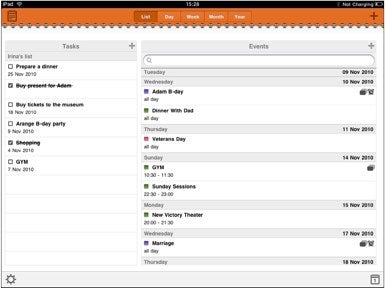 Calendars features an intuitive UI that lets you easily drag and drop events in day, week, or month views, add events with a single tap, and quickly swipe between days. You can manage your calendars online or offline—Calendars will sync any offline changes back to your account next time you go online—schedule SMS reminders for events, and search for events by name.
The biggest addition to Calendars 2.0 is Google Tasks support; you can now freely create, delete, and modify tasks, with all changes synced back to the cloud. iOS 4.0 users get the added bonus of being able to view events from their iPhone's built-in calendar database in Calendars as well. Those events can be turned on or off as if they were in any other calendar, but are read-only for now—Readdle says that the ability to edit them will come soon.
The iPad and iPhone versions both get a redesigned week view that more closely resembles Google Calendar's week view, and iPad users also get a year view that gives them an overview of their entire year on one screen.
Calendars costs $7 and requires iOS 3.0 or later.