For more than 30 years, PBS NewsHour and its predecessors have been an oasis of calm in the increasingly frenetic world of television news. The show has never been a news-breaking machine, but it has provided a solid, sober overview of the day's headlines without turning into one of the shoutfests that dominates the cable channels. It comes as no surprise, then, that the free PBS NewsHour app from the Public Broadcasting Service reflects those same values.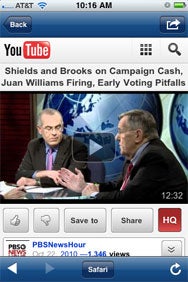 Now, PBS doesn't have a far-flung news operation, so the app doesn't offer a 24-hour stream of updated headlines—in fact, there are rarely any updates at all during the weekends. What the app mostly provides is the NewsHour show itself, broken down into segments and offered in any form a user desires—video, audio or text transcripts.
There are some extras here—namely, video and print stories from member stations, along with some headline aggregation from news operations that do have reporters in the field. Users can share all of these stories via e-mail, Facebook or Twitter.
There's nothing flashy here, in other words: just a useful, even slightly boring overview of the day's top news. In this app, though, the lack of pizazz might well be a virtue.
[Joel Mathis is a freelance journalist and political columnist for Scripps Howard News Service. He lives in Philadelphia.]