When I was a kid, my parents used to read to me every night before I went to bed. Lovely as that experience was, it's also true that, try as they might, my parents lacked the vocal talent to really bring the characters in those stories to life.
For those moments when you want to add a little showmanship to story time, Ruckus Media Group offers a slew of storybook apps optimized for both the iPhone and iPad, featuring the vocal talents of notable actors accompanied by well-known musicians. Ruckus currently features five classic children's stories—everything from The Velveteen Rabbit with Meryl Streep to John Henry as read by Denzel Washington. For the purposes of this review, I focused my attention on Tom Thumb, which features Monty Python alum John Cleese and the music of Elvis Costello, though the experience applies across Ruckus Media Group's array of storybook apps.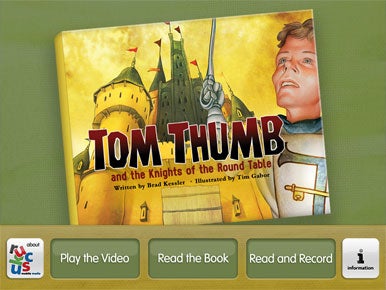 Each app includes a fully illustrated storybook that you can read to your kids on your own. But there's also the option to have actor do the reading. The recordings play over video slideshows of each story's illustrations, with a musical score playing in the background.
The contributions from the actors and musicians serve as a pleasant option that will certainly keep you kid occupied during car trips, flights, or any other time you can't be there to read along. Sadly, the video portion of the app aren't that helpful when it comes to promoting literacy—none of the videos include text, just illustrations. As a result, kids won't be able to make the visual word-to-sound connections that are necessary for reading development. The lack of text in the videos is an unfortunate omission.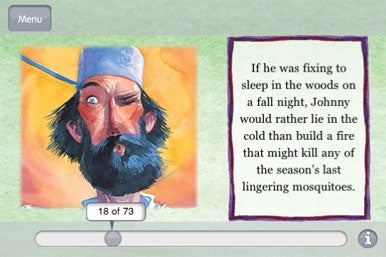 The storybook apps offer a feature that parents may appreciate: You can record yourself reading the story. That way, you child could go to the app's menu to find your recording and play back the sound of your narration. Children can even record themselves reading the story, which seems like a great way to chronicle their reading skills.
While a mixed bag when it comes to helping kids develop their reading skills, the entertainment value of what Ruckus Media Group has to offer with Tom Thumb, Pecos Bill, Johnny Appleseed, and its other two apps is undeniable. Note that each story costs $4; I would have liked to see the developer offer some sort of volume discount or combo app to users who want to download more than one of these entertain children's stories.
[Sam Felsing is an editorial intern for Macworld.]