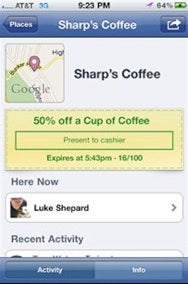 Facebook held a mobile-focused event for the press at its campus Wednesday to announce a number of new features for its iPhone app, including some for its recently updated groups feature and its location services.
Headlining Facebook's event were updates to Places, the location-based features that the social network announced back in August. Places allows Facebook users to "check-in" to a business or other location and then share posts and media about that location. Unlike other location-based social networks like Gowalla and Foursquare, though, Facebook also allows users to check their friends into a place, as long as the friend opts into this ability by turning on the feature in their privacy settings.
To give Places the jolt it may need to earn some more attention, Facebook on Wednesday announced the addition of Deals, which will allow retailers to display coupons and other goodies to users when they are nearby. Retailers will be able to offer things like product sales that expire in a certain time or friend discounts if you bring along a companion. Facebook has already made agreements with a number of prominent retailers throughout the country to offer discounts, charity donations, and more.
Don't worry about getting spammed with coupons if you use Facebook on your iPhone, though, because Facebook's updated iPhone app will only highlight retailers with deals in the Places list. If you don't ever stumble into the Places section, you should never be bothered with any of these coupons.
Also now available in Facebook's updated iPhone app is support for Groups, a feature the social network revamped in early October. Like Yahoo Groups or Google Groups, Facebook Groups allow users to create a type of page based on, say, an event or discussion topic, then invite other users, post media, collaborate on basic documents, schedule events, and make the whole digital shindig as private or public as desired.
Finally, Facebook announced "Single Sign On," a much-requested feature that will help you to cut down on the tediousness involved with using other Facebook-enabled apps on your device. Instead of having to repeatedly type your full Facebook username and password into every app that can tap into your Facebook account, single sign-on will allow owners of multitasking-enabled devices (iPhone 3GS, iPhone 4, iPod touch third-generation and fourth-generation) to simply sign into the Facebook app once, then let other apps request for permission to use that account.
Single Sign On is supported in Wednesday's update of the iPhone app, though other Facebook-enabled apps will require their own updates in order to take advantage of the time-saving feature.
During a Q&A session at the end of Facebook's event, someone asked founder and CEO Mark Zuckerberg why his company has yet to release an official iPad app, leaving the space to third-party apps like Friendly and Social.
"iPad isn't mobile," Zuckerberg quipped, moving on to the next question before the inquisitive reporter could process the seemingly backwards statement. A few moments later he clarified, stating that the "iPad is not mobile like a smartphone," positioning it as more of a personal computer that most people do not always carry with them. Wednesday's event was "focused on mobile," Zucerkberg continued, offering no closure on when Facebook would release an iPad, if the company was even working on one.
The newly announced iPhone features are all part and parcel of Facebook 3.3, which is available now for free in the App Store for iPhones and iPod touches running iOS 3.0 or later.
Updated at 1:16pm PT with information about Single Sign On, another new feature Facebook announced for its iPhone app