iOS users, long accustomed to working around the platform's notorious lack of Flash support, could be in for a breath of fresh air with the recent approval and release of the Flash-video-playing Skyfire Web Browser for iOS.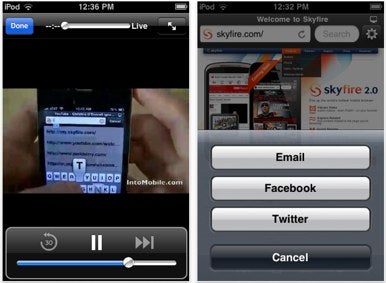 Skyfire Web Browser, by Skyfire Labs, lets you browse the Web much like Mobile Safari, but its main appeal lies in its unique ability to display Flash videos on iOS devices. To circumvent Apple's strict anti-Flash policies, Skyfire makes use of some clever server-side assistance. When you visit a site with an embedded Flash video, Skyfire's remote servers download, render, and convert the video into the iOS-friendly HTML5 format, making it viewable on your device.
Considering the vast amount of media on the Web that is still Flash-based, the Skyfire Web Browser has the potential to dramatically improve the iOS Web browsing experience by giving users access to numerous music- and video-streaming sites that have previously been off-limits. Keep in mind, however, that while Skyfire supports most Flash video content, Flash games and apps are not supported, nor is Hulu.
Skyfire costs $3 and requires iOS 3 or later running on an iPhone or iPod touch.