No, you don't have to adjust your displays, you're reading that right. Skype on Thursday announced a public beta for its Mac client, with an upgrade so significant that it leapt past two full version numbers. The new version brings Skype much more in line with its Windows counterpart in both features and interface. Macworld spoke with Aziza Johnson, Vice President at Kaplow, Skype's PR agency, about what the update means for Skype's commitment to the Mac.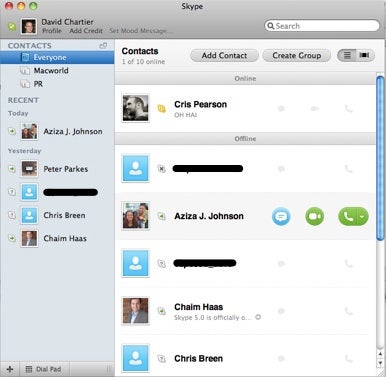 The first thing you'll probably notice about the beta of Skype 5.0 for Mac is its interface: it looks absolutely nothing like its predecessor, and entirely like its Windows counterpart, which got the 5.0 treatment in mid-October. Skype for Mac has shed the narrow-windowed "contact list" appearance—a staple of virtually every chat app on the market—in favor of an almost e-mail client approach. It's a fairly minimal interface that feels all right (but not great) on the Mac.
A left sidebar contains contacts, groups, and a Recent list that displays the contacts you correspond with the most frequently. For the first time, Skype 5.0 for Mac lets you turn on full integration with Mac OS X's Address Book from the preferences. This means you can finally call, SMS, or IM contacts without first having to go through the process of adding them to your Skype contact list. If you don't want to keep Skype's hefty new window around, you can open the Contact Monitor, which offers a compact window that is more akin to the style of a thin buddy list that you can keep to the side of your work.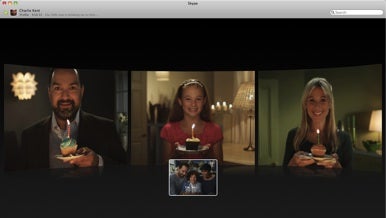 Beyond the major interface overhaul, the most significant new feature in Skype 5.0 for Mac is easily Group Video Calling (GVC), which first arrived in the Windows client last month. Skype 5.0's group video chat looks a bit like iChat's, but unlike iChat, it supports up to ten members in a single chat (which requires that all parties have a minimum broadband connection of 4 mbps down and 1 mbps up). Johnson explained to Macworld via (what else) Skype chat that GVC is free to use while Skype 5.0 is in beta, but a paid plan will be required once the feature officially ships. There is no word yet from Skype on what GVC's pricing will be or how it will fit into Skype's existing price plans.
Skype 5.0 for Mac contains plenty of other new features, though it is still lacking at least one feature of its Windows sibling, albeit one that not everyone will miss: integration of the Facebook News Feed. Johnson said that Skype's focus with this initial beta was to get the major groundwork laid for interface and feature parity with the Windows version. "We are very committed to the MacOS ecosystem," Johnson said, "which is why we went through this very thorough redesign."
She also conceded that, while the "large majority" of Skype's users are on Windows, a "very sizable" portion of them use both Mac and Windows, which was a large impetus for this interface unification.
The Skype 5.0 for Mac beta is available now, and requires a Mac running OS X Leopard 10.5.8 and a 1GHz CPU or faster, though video calling requires at least a an Intel Core 2 Duo 1GHz CPU.
Updated at 7:51am PT with accurate system requirements for basic Skype usage and group video calling.