Jumsoft's desktop business-management program has made the leap to iPhone.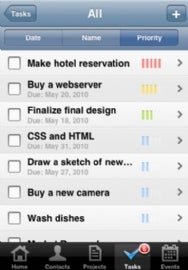 Jumsoft Relationship, launched on Thursday, lets users capture pictures of their business contacts to enter alongside standard information like name, phone number, and e-mail address. The app also lets users manage their projects—tracking associated contacts, tasks, and events along the way to completion. Tasks can be sorted according to date, priority, or your other criterion; the app's event calendar offers alarm reminders of scheduled events.
The mobile version of Relationship also syncs with Jumsoft's $40 desktop software, which has been updated to support the synchronization. The company said Thursday via Twitter that an iPad-optimized version of the app is due within the next few months.
Jumsoft Relationship is free, and compatible with any device running iOS 3.0 or later.