More than 45,000 recipes from television's most famous chefs are now available in an app for the iPhone and iPad.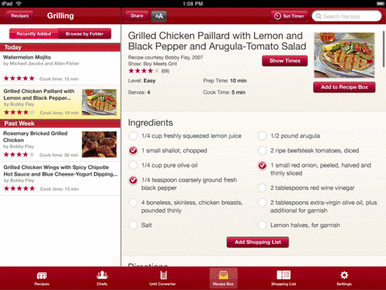 The In The Kitchen app comes from the Food Network and features contributions from Paula Deen, Bobby Flay, Guy Fieri, and others from the cable channel's stable of celebrity chefs.
Each recipe comes with photos and step-by-step instructions, and the app updates throughout the year with seasonal favorites.
In The Kitchen also features a "recipe box" so that users can save their favorite meals as well as customizable shopping lists, a cooking timer, and a unit converter to help cooks use precise measurements while they're preparing food.
In The Kitchen costs $2. It's optimized to run on both the iPhone and iPad, requiring iOS 3.0 or later.