iOS's default iPod app is a solid all-around music player, but it doesn't necessarily fit in with everyone's playing style. For instance, if you tap a song while playing another song, the song you just tapped begins playing right away, abruptly cutting off whatever you were just listening to. You can set up a queue of songs by creating a playlist, but that can be a cumbersome process.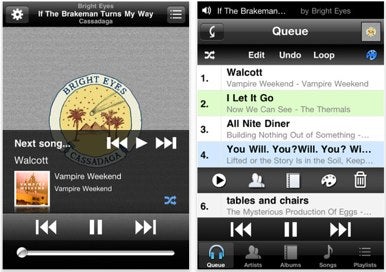 Dan Pourhadi—who's contributed to Macworld in the past—has come out with OnCue, a music app that strives to make it as easy as possible to queue up your favorite songs while on the go, without having to create an On the Go playlist.
While listening to music with OnCue, tapping another song will automatically add it to the top of the queue, so it will play after the current song ends. You can continue to add songs to your queue as well as reorder them while your music is playing.
OnCue also lets your view and queue songs in shuffle mode without interrupting your current tune—a feature that should be appreciated by anyone reduced to skipping through tracks in shuffle mode to get to an acceptable song. Other features of OnCue include the ability to color code albums, artists, and songs, and the ability to loop songs in your queue.
OnCue costs $3 and runs on iOS 4.0 or later.