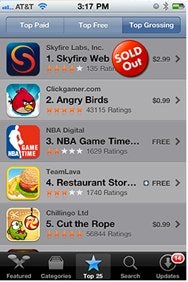 When Skyfire Labs this week released an iOS browser that promised to play Flash content, it seemed they had a hit on their hands. But few—including Skyfire Labs itself—expected the app to sell as quickly as it did.
According to Skyfire Labs, its $3 Skyfire Web Browser app became the top grossing app in the App Store within five hours—far exceeding the company's initial projections and forcing it to temporarily stop selling the app to reduce strain on its servers.
To play a Flash video on a Website, Skyfire uploads the video to its servers, converts it to the iOS-friendly HTML5 format, and streams it back to the device. This server-intensive process allows for the streaming of previously off-limits Flash content to iOS devices, but it's vulnerable to server overloads if the demand gets too high.
Skyfire Labs says it is working to increase its server capacity and will be accepting new purchases from the App Store as soon as it can support them, so keep your eyes peeled if you're still looking to grab a copy.