You Need a Budget for the iPhone is a companion app to the Mac personal finance program of the same name. iPhone and iPod touch users will first need to buy the $60 Mac application if they want to put this mobile app to use.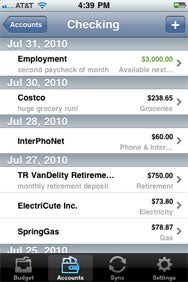 YNAB for the iPhone allows users to add transactions, view budgets, and sync new transactions back to the Mac software over a local Wi-Fi connection. While the ability to add transactions on the go is convenient, the iPhone version of YNAB is surprisingly limited. The application does not allow users to create new budgets or accounts or edit or delete previous transactions or budgets. Essentially the application is designed solely so users can add new transactions on-the-go.
YNAB for the Mac offers bright, colorful charts and graphs which explain your net work and financial health at a glance. The iPhone app includes information on each account but the helpful charts and graphs are nowhere to be found; even the inclusion of a simple line chart would have been helpful.
YNAB for the iPhone lacks the polish and features of its Mac counterpart. YNAB's limited features would be more understandable if this were a free or low-cost offering; instead, the price tag is a hefty $10. While Mac users may enjoy the convenience of the mobile offering, YNAB on the iPhone is ultimately disappointing for all the things it doesn't do and that its Mac namesake does so well.