Apricorn, a leading developer of external storage solutions, announced Wednesday a new entry in its security-focused Padlock line, the Aegis Padlock 750GB. In its press release, Apricorn boasts that the Aegis Padlock 750GB is the highest capacity hardware encrypted portable drive available on the market. Compatible with the Mac and priced competitively at $200, the Aegis Padlock offers security-minded users a portable, approachable storage solution.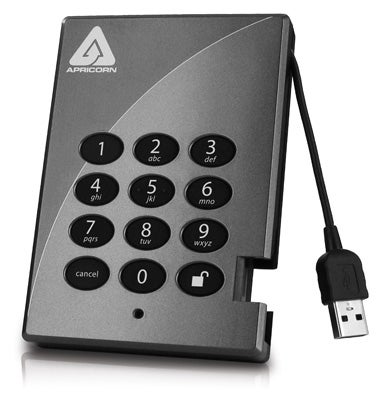 Apricorn's Aegis Padlock series has achieved a strong reputation for providing overlapping and robust security features These combined with a simple setup and fantastic portability make it a solid choice of external hard drive for anyone on the go.
The initial security feature of the Padlock is an easy to set up PIN code. This security measure can be used to store a single access PIN, or can be set up to store up to ten PINs or an Administrator PIN code. This feature makes the device not only conveniently secure and portable, but a great collaborative tool as well.
For further security, all data on the Aegis Padlock is encoded with 128-bit or 256-bit AES Encryption at all times. The drive also has "Data at Rest Protection" which renders the PINs and encryption keys encrypted even when the device is at rest. Such features ensure that the information on the drive is secure, even if the piece were to be dismantled.
Additionally, the Brute Force Self Destruct feature works as a shield against hacking. Should the Padlock sense automated tries at entering PIN numbers, the drive destroys the encryption key and locks the drive. Finally, the drive also features Apricorn's Variable Time Circuit (VTC) technology. VTC works to prevent timing attacks (which find weakness in the implementation power of an algorithm to access data) on a device.
The design of the drive also works to keep it safe, but still easy to use. The Aegis Padlock is made with a wear resistant keypad to keep PIN codes safe, and Apricorn promises the keypad hides wear for years after the drive's lifespan. The device also features an integrated USB cable, extensive shock mounting, and a software-free design. With the 750GB Aegis Padlock, Apricorn caters to the need for large capacity portable storage with seamless security.
Aegis Padlock 128-bit AES Encryption 640GB
Aegis Padlock 128-bit AES Encryption 750GB
Aegis Padlock 256-bit AES Encryption 250GB
Price When Reviewed:
$159.69
Aegis Padlock 256-bit AES Encryption 320GB
Price When Reviewed:
$172.18
Aegis Padlock 256-bit AES Encryption 500GB
Price When Reviewed:
$188.6
Aegis Padlock 128-bit AES Encryption 320GB
Aegis Padlock 128-bit AES Encryption 250GB
Price When Reviewed:
$153.1
Aegis Padlock 128-bit AES Encryption 500GB
Price When Reviewed:
$182.57
Aegis Padlock 256-bit AES Encryption 750GB
Price When Reviewed:
$214.64
Aegis Padlock 256-bit AES Encryption 640GB
Price When Reviewed:
$206.98