At a Glance
Expert's Rating
Our Verdict
Nearly two decades ago, Etymotic Research used the company's expertise in hearing aids to produce one of the first lines of in-ear-canal headphones (also known as canalphones), the ER-4 series. The models in the ER-4 line—the ER-4S, ER-4P, and ER-4B—remain audiophile classics, and updated versions are still available today at a price of $299 each. With the $149 hf5 ( ) canalphones, as well as the $179 hf2 ( ) and hf3 canalphone headsets, the company sought to match the ER-4P's performance as closely as possible at lower prices, largely by outsourcing some of the manufacturing processes.
The $99 mc3 Headset + Earphones (available sans remote and microphone as the $79 mc5 Earphones) is Etymotic's attempt to bring a similarly high level of performance to the under-$100 canalphone market. This time, the company cut costs further by replacing the balanced-armature drivers of the hf and ER series with less-expensive moving-coil drivers—thus the "mc" in the product name—and tuning those drivers to closely mimic the performance of the hf and ER series.
In-ear on a budget
Some quick background info: Canalphones typically fit snugly—and fairly deep—in your ear canals, blocking most external noise and creating a solid acoustic seal to improve bass performance. (Canalbuds are similar but don't sit as deep or block as much sound. See our in-ear-canal headphone primer for more info.) The downsides of canalphones are that some people find it tricky to get a proper fit; you may experience the odd-sounding voice that comes from having your ears plugged while talking; and you may hear some cable noise—bumps and scrapes of the cable amplified by the canalphones' tight coupling with your ear canals.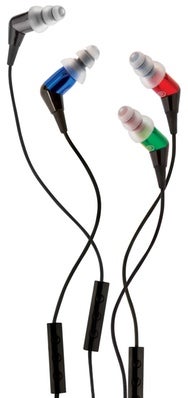 The mc3's earpieces are aluminum tubes available in four colors: black (which I tested—it's actually a dark gray), red, green, and blue. The design is clean and attractive, but slightly plain. The rubbery, kevlar-reinforced cables feature a 45-degree miniplug and, on the cable for the right-hand earpiece, an Apple-style three-button (Volume Up, Play/Pause/Call, and Volume Down) remote with a built-in microphone. The remote is relatively easy to operate, although the identically-shaped buttons are distinguishable from each other mainly by their relative positions. Etymotic includes a nylon carrying case, replacement filters that protect the drivers and fine-tune high frequencies, a filter-changing tool, a shirt clip, and, commendably, a two year warranty.
Etymotic also provides an unusually diverse assortment of eartips: small and large triple-flanged silicone tips, coarse foam tips, and mushroom-shaped "glider" tips made of smooth foam. All three styles provide a good seal and above-average isolation. Eartip preference is personal, but I liked the triple-flange versions, which sealed in my ears better than the comfortable gliders, and were more comfortable than the scratchy foam tips.
When I first tried the mc3, I was immediately impressed by the sound quality. I received the mc3 on a busy day, but after putting them on (in?), it was an hour later before I finally managed to tear myself away. In fact, any time I listened to the mc3, the session lasted longer than planned, and these canalphones had a similar effect on friends that tried them. Audio is clear and natural, with impressive detail in the bass, midrange, and high frequencies that easily outperforms the best canalbuds. This clarity is the main contributor to the mc3's engaging performance, but I also find the mc3 to cause less aural fatigue than headphones with more exaggerated highs or bass.
Etymotic's products have a reputation for producing frequency response that's as "flat" as possible—having the high, midrange, and low frequencies in balance, rather than any one dominating. However, while I find the mc3's balance of midrange and treble frequencies appropriate, bass frequencies sound a bit too quiet for my tastes, particularly at lower volumes. This is especially apparent for instruments such as bass guitar and kick drums, which frequently lack the kind of impact I expect. Many headphones greatly exaggerate bass, so in principle I find Etymotic's focus on neutrality admirable. But while I can't say, objectively and definitively, whether the mc3 represents bass volume accurately, I suspect there won't be "enough" bass for some listeners. Whether you're one of those will depend on your personal tastes and the types of music you listen to—I find that classical and jazz sound great, rock generally sounds good (if a little thin on the low end), while hip-hop and electronic music border on anemic (relative to how I think the recordings are intended to sound) due to the lack of visceral bass impact.
Was the mc3's overall detail and balance impressive enough that I preferred it to headphones with more bass impact? My long-time favorite sub-$100 canalbud headset, the $80 Maximo iP-595 ( ), accentuates bass and high frequencies for a more immediately exciting sound, and while I like the iP-595's bass impact, I prefer the mc3 overall for its top-to-bottom detail and less-fatiguing high-frequency balance. Ultimate Ears' $90 MetroFi 220vi ( ) is a bit more balanced than the iP-595, and I like the MetroFi's slight bass emphasis compared to the mc3's restrained bass, but I still prefer the mc3 overall due to its detail and accuracy. Finally, although the mc3 is very good, it's important to point out that it's not the final word in sound quality. For example, higher-end canalphones—which also cost more, of course—offer better detail and sound more relaxed and natural overall, and some may offer better bass impact, as well.
The performance of the inline microphone is one of the mc3's few weak spots. Voices reproduced by the microphone are easily comprehensible, but lack bass and sound thin compared to the iPhone 4's internal microphone. I also noticed a tendency for the mc3's cable to curl—a common issue with this type of rubbery cable.
Custom-Fit tips
For $100, you can upgrade the mc3 with Etymotic's Custom-Fit eartips. I've covered the details of the Custom-Fit program in a separate article, but briefly, you present a coupon from Etymotic's Website to an audiologist, who takes impressions (molds) of your ear canals and sends them to Etymotic's partner, ACS. Four to eight weeks later, you receive a set of eartips designed specifically for your ear canals. While you can get custom eartips for other brands of canalphones, they are usually considerably more expensive ($150 plus audiologist fees, for example), and canalphones with custom earpieces (the entire earpiece/eartip assembly is a single, custom-molded piece with the electronics inside) are much more expensive, starting around $400.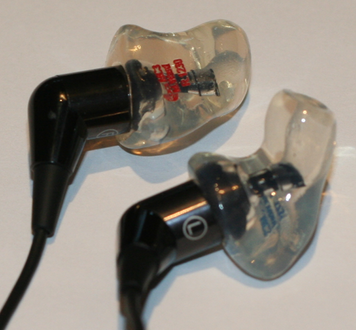 While reviewing the mc3, I also tested the Custom-Fit program. (Etymotic had me go through a process similar to what an mc3 owner would experience.) Besides the bespoke appeal of eartips tailored to your ears, the Custom-Fit earpieces improve the mc3's comfort considerably. Because they better fit the outer parts of my ear canals, they don't have to be inserted as deeply as the included "universal-fit" tips, and since they don't have a uniformly round shape, they don't exert extra pressure in particular spots. Noise isolation is comparable to that of the included triple-flange tips—still among the best I've heard. However, although I had hoped the Custom-Fit earpieces would be easier to insert—my curved ear canals tend to be finicky with universal tips—it still takes some work to angle the custom tips properly and seat them securely. Practice helps, as does moistening the Custom-Fit tips slightly.
Is the difference between universal eartips and the Custom-Fit tips worth turning a $99 headset into a $199 headset? That depends on how much you value comfort—and how much time you spend each day with the mc3. While the mc3 was close to being a new favorite with the stock eartips, the custom earpieces sealed the deal. They're a luxury, but their comfort quickly spoiled me. However, even though the mc3 is a bargain at $99, and would still be be good at $199, keep in mind that same $199 could also buy more-expensive universal-fit canalphones that might surpass the mc3 in performance (if not comfort). Plus, aftermarket universal-fit eartips such as those from Comply Foam( ) can do a lot for comfort and isolation for far less than $100.
Macworld's Buying Advice
The mc3 offers great detail that will immerse you in your music for hours—anyone shopping in this price range should at least hear the mc3 to see if its impressive clarity is enough to offset its relatively low bass impact. Bassheads should obviously steer clear, but even though I find the lack of bass impact to be occasionally frustrating, overall I love the mc3, and it's become my go-to headset.
The option to get custom eartips for the relatively low price of $100 is compelling, but that option should be weighed against putting this money into potentially better-sounding headphones. Personally, given the mc3's already great performance, I'd pick the mc3 with custom tips—that extra comfort means I can listen even longer.