Hollywood sequels often have a hard time living up to the original. IMDB hopes to buck that trend with the 2.0 version of its iPhone and iPad app. The updated version of the mobile entertainment reference guide arrived on the App Store this week.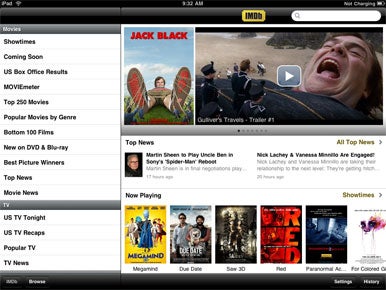 The free IMDB app contains much of the information you'll find on the Website of the same name, only in optimized form for Apple's iOS devices. The experience is particularly noteworthy on the iPad, where IMDB fills that device's larger screen with multiple panes and pop-ups to help you easily track down what actors appeared in what movies and TV shows.
The 2.0 release of IMDB adds some iOS 4 friendly features—most notably support for the Retina display in the iPhone 4 and newer iPod touches as well as multitasking capabilities. That latter feature allows you to jump between IMDB and other apps without losing your place so that you can confirm to your friend via SMS that yes, that is, in fact, the voice of Brad Pitt in Megamind.
Other enhancements in IMDB 2.0 don't depend on iOS 4 support. The app now lets you sign in with either your IMDB or Facebook account to rate movies and TV shows. IMDB for the iPhone and iPad now offers entertainment news from assorted sources; a redesigned home screen brings the latest news straight to your iOS device. What's more, the Showtimes feature has gone international with listings for movie theaters in 13 countries, including Canada and the UK. IMDB promises bug fixes and performance optimization in the 2.0 version as well.
A free download, the app runs on the iPhone, iPod touch, and iPad; it requires iOS 3.0 or later.