The iPad, with its vast array of music education and performance apps, can be a handy tool for musicians—so why not take it on stage? With IK Multimedia's iKlip, you can do just that. The iKlip is a universal microphone stand adapter for the iPad that secures your iPad to virtually any microphone stand for optimal on-stage viewing.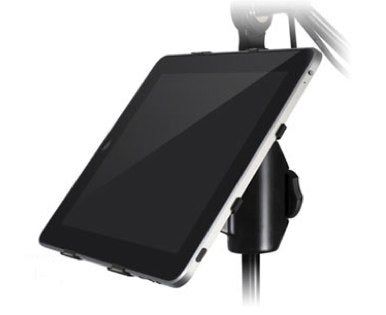 The iKlip features a multi-angle, adjustable design that supports both landscape and portrait orientation and allows for optimal viewing and access to all the iPad's controls, buttons and connection ports. It's made of a dense, thermoplastic lightweight material with six secure touch points that hold the iPad tight without scratching or marring it.
The iKlip is easy to use, with quick-snap clips that allow for fast and secure iPad insertion, and a stand clip that securely attaches to almost any microphone stand with the twist of a knob.
With an iPad on-stage, a musician could easily access lyrics and chords for a song, or manipulate live sound with one of the numerous audio apps available for the device. The iKlip could also be useful for viewing tutorials and lessons when practicing at home.
The iKlip will begin shipping in December and sells for $40.