Hardware developer Synology announced Tuesday the release of its 4-bay, full-featured NAS server, the DiskStation DS411j. The server—intended for small businesses and home offices—works with Synology's DiskStation Manager 3.0 operating system to provide secure and ample storage space, stream multimedia entertainment, and manage data. Available now in stores, the DiskStation DS411j enclosure retails for $333.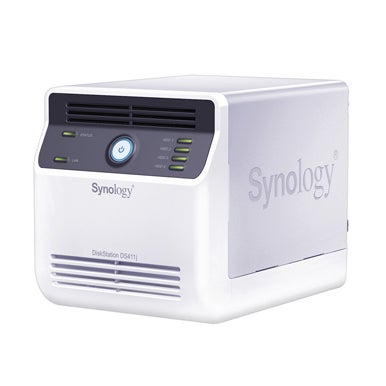 With a maximum capacity of 8TB, the 4-bay unit will satisfy small businesses and audio/visual professionals who have even the most demanding media storage needs. Users will be able to share and backup files across a variety of platforms, including Windows, Linux, and Mac. The DiskStation DS411j is also Time Machine ready, meaning you just need to set the DS411j as your backup source and you're good to go.
Synology utilizes its Hybrid RAID technology to ensure data protection through a number of security measures. HTTPS, a built-in firewall, encrypted data transmission, and IP auto-block supports all make for safe, protected file sharing. If you need to augment your storage capacity at any time, the DS411j is also equipped with 2USB ports as well as 128MP DDRII RAM.
You'll also be able to enjoy a wealth of features in the new DS411j. The Disktation works as a 24/7 download server that supports BitTorrent, FTP, HTTP, NZB, and eMule (with no need for a computer). The DLNA/UPnP compliant device provides an easy way to stream these downloaded multimedia files to a TV or stereo system. The DS411j also supports an extensive range of audio playback methods, including iPod playback and Internet radio. These can be shared with multiple users via streaming mode.
Despite the impressive features of the DS411j, thanks to Synology's DiskStation Manager 3.0, the unit is also more user-friendly than your typical NAS. Synology has worked hard to improve the approachability of its DiskStation Manager, so hopefully the DS411j is less cryptic to use than some earlier Synology models.
With a reputation for being environmentally friendly, the Synology DiskStation uses a relatively low quantity of power. With only 1.2GHz and less than 3 watts CPU, the DS411j can be energy-efficient without compromising any of its power. When full, the DS411j uses only 42.9W while operating, and dips down to a mere 16W while sleeping. Scheduled on and off times can also help to cut back on power usage.
The DS411j also works with some smart phones (iPhone and Android) making content on the device quickly and easily available. iPhone and Android users can stream music from their phones using the app DS audio, and can also upload picture and video files directly to the DS411j with the application DS photo+.
Ultimately, the DiskStation DS411j offers a well-rounded range of features for a fair price. The DS411j is already available at multiple distributors and online for $333.00.