With hundreds and hundreds of products that are released every year, we look for the ones that truly stand out, the products that offer the best quality, innovation, and value. After a year (we restricted ourselves to products released between November 1, 2009 and November 1, 2010), we put together a list of the top products, and we spend several weeks discussing the merits of each and every product.
Eventually, we came up with the list you see here, the best 24 products of 2010. The winners help prove that the Mac market is very much alive and well. (For more visual versions of this list, see Macworld Editors' Choice Awards 2010: Hardware and 2010 Macworld Editors' Choice Awards: Software.)
1Password 3
I recently heard someone say, "There are two kinds of Mac users: those who won't use a Mac without 1Password, and those who've never tried 1Password." 1Password 3 ( ) by Agile Web Solutions is a systemwide password manager that lets you save to its encrypted database login information for any Web site (even those that try to prevent it) and retrieve that information at any time, even from within a different browser. To make your login passwords more secure, 1Password includes a powerful password generator.
Perhaps best of all, 1Password can sync its secure database using Dropbox, making your info accessible from within any browser, on any computer (Mac or Windows), and, thanks to excellent iOS apps, on your iPhone and iPad. For a long time, I resisted using 1Password, despite many recommendations from colleagues. Since I finally gave in, count me in the group that won't use a Mac without it. ($40; five-user license, $70)—DAN FRAKES
Alpha NEX-5
This small, fun, and powerful camera from Sony is a standout in a burgeoning class of interchangeable-lens cameras. Straddling the line between a point-and-shoot a DSLR, the Alpha NEX-5 ( ) has done an impressive job of packing advanced features into a slim and light body. It has a 14.2-megapixel CMOS sensor, HD video recording, a 25-point auto focus system, and a great 7 fps burst mode. Even though the body of the camera is small, it has a solid grip and an adjustable 3-inch LCD screen.
Amazon Kindle (Third Generation)
Although many of us use our iPads to read books and magazines, if you're looking for a pure e-reader, it's hard to beat the third generation Amazon Kindle ( ).
Amazon has also increased your options when buying the Kindle. In addition to a new graphite color that joins the standard white, you can now choose between a Wi-Fi/3G version and a Wi-Fi-only version that brings the cost of entry down even further. Plus, Kindle apps for the Mac, iPhone, iPod touch, and iPad mean that you can read your Kindle material (even picking up where you left off) on a number of different devices. (Wi-Fi only, $139; Wi-Fi and 3G, $189)—JONATHAN SEFF
Aperture 3.1
Serious users got great additions in the new version as well, including new quick brushes and curves adjustment tools. iPhoto is great for beginner photographers, and Adobe's Lightroom is a powerful management tool for professional photographers. Aperture 3 is a beautiful application that appeals to both groups, and it understands that beginners want to play around with cool retouching tools too, and sometimes even a pro wants to make a printed book or look at a map of their travels. ($199)—HEATHER KELLY
Dodocase
Despite the flock of cases that appeared in the wake of the iPad's release back in April, the handmade Dodocase ( ) has managed to alight on our list of best products for the year. Quite a feat for a flightless bird.
The case, which mimics the outer appearance of a hardcover moleskine notebook, holds the iPad in place with a simple bamboo frame and a set of small foam cushions, adding a mere 8 ounces to the total weight. But don't mistake the relative simplicity of the case's construction for delicacy: while we wouldn't suggest letting it fly off a roof at 70 miles per hour, the fact remains that the Dodocase is expertly crafted.
Will the Dodocase be perfect for every iPad owner? No. But of the many, many, many cases we've seen this year, it stands out far and away as our favorite. ($60)—SERENITY CALDWELL
Evernote 1.11
In the last couple of years, Evernote has gone from a cool, cloud-based note taking utility to a must-have productivity powerhouse. Whether at your Mac or Windows computer, on your iPhone or Android device, or on your iPad or other tablet, you can save a Webpage, audio clip, text, and more to Evernote and it's available everywhere that you are. You can use scanners from Canon, Doxie, and Fujitsu to scan items directly to Evernote. You can take pictures with your iSight camera from within the Evernote application (and you can do the same with the Evernote iPhone app), save audio notes, and capture your entire desktop screen (or portion thereof) into a sortable, searchable entry in Evernote. Oh, and did I mention that its free! There is a paid, premium ad-free account available for $5 a month or $45 a year with larger file size and but the free version will suffice for most.
Excel for Mac 2011
When Microsoft released Excel 2008, it was a step back in the development of the popular spreadsheet program—it didn't have new must-have features, and it was missing support for macros. Fortunately, Excel for Mac 2011 ( ) has hundreds of improvements and new features, making it a must-have upgrade for Excel users.
Excel 2011 has some performance issues related to scrolling—it's actually slower than previous version. But more importantly, the new Excel is faster than ever at number crunching.
If you're still using Excel 2004 (or you actually were daring enough to upgrade to Excel 2008), it's time to step up to Excel 2011. The new features strengthen Excel's place as the best spreadsheet program for the Mac. ($119)—ROMAN LOYOLA
iMovie '11
Most importantly, Apple improved the audio editing features in iMovie '11. You can have audio waveforms appear underneath your clips, a much-needed aid when editing. Adjusting audio levels is simple: select a range of audio, and then drag the volume bar up or down to change the level. Apple also includes a new set of audio effects.
iMovie isn't perfect. It still doesn't edit AVCHD video natively, and interlaced video is displayed with artifacts. But the new features and improvements are much welcomed, and make iMovie '11 a very compelling video editor.(Part of iLife '11, $49)—ROMAN LOYOLA
Instapaper
Imagine if, when coming across an interesting—or too-long-to-read-now—Web article, you could just click a button to save that article to a personal repository of Stuff To Read. And imagine if, when you sit down to read your archive of articles, each is automatically reformatted for easier reading. And wouldn't it be really great if you could read those articles on any computer, iPhone, or iPad in an interface designed specifically for that particular device?
Other standout features include customizable formatting; a service for reformatting Web pages and sites on the fly; a service for sending reformatted articles to your Kindle; and a feature for sharing favorite articles with other Instapaper users. It's a testament to Instapaper's popularity that you'll find a Send To Instapaper feature in many of your favorite Mac and iOS Twitter clients and RSS readers. It's become indispensable to many a Macworld editor. (Free; iOS reader apps, free or $5)—DAN FRAKES
iPad
If you're familiar with other iOS devices, using an iPad ( ) feels right at home. That's by design, and also why people were more than willing to plunk down their credit cards to order an iPad without ever having touched one. But anyone who calls the iPad "a big iPod touch" is missing the point. Because of its size and the fact that it's based on an OS designed solely for touchscreen devices, the iPad could be called the first truly usable tablet device.
With every new tablet released (or even those announced and still untouched) pundits proclaim an "iPad Killer" is now in out midst. As with so many false predictions regarding the fate of the iPhone compared to its competitors, the fact is that the iPad has a big head start, and Apple and the huge community of developers will continue to make it better and able to do things we haven't even thought of yet. There's no such thing as an iPad killer—get used to it. (Wi-Fi–only: 16GB, $499; 32GB, $599; 64GB, $699. Wi-Fi and 3G: 16GB, $629; 32GB, $729; 64GB, $829)—JONATHAN SEFF
iPod touch (Fourth Generation, Late 2010)
If you judge an iPod touch by how close its feature-set comes to that of the latest iPhone, the fourth-generation (4G) iPod touch ( ) has to meet with your approval. Like the iPhone 4, the 4G iPod touch includes an A4 processor, front- and rear-facing camera, retina display, built-in microphone, FaceTime video-calling support, and iMovie for iPhone compatibility. And, of course, there are its existing features that resonate with those who can't have or don't need an iPhone—the App Store, iTunes Store, iBookstore, and the many helpful apps bundled with the device.
Though the 4G iPod touch's rear-facing camera is of far lower resolution than the camera found on the iPhone 4 and its retina display not as crisp when viewed off-angle, we bestow this award not for the fine details but rather the "Big Picture." And that Big Picture is that the 4G iPod touch, as a pint-sized media player/gaming device/Internet communicator/pocket-computer, has no peer except among those devices that require a two-year AT&T contract or, in the case of the iPad, the kind of jumbo pocket found only on safari couture. (8GB, $229; 32GB, $299; 64GB, $399)—CHRISTOPHER BREEN
iScrapbook 3
This release offers its artistic, conceptual audience depth and variety from the free smart templates and searchable iScrapKits that pull a book's look together to the new font preview feature that lets you see how your text, headlines, and captions will look in different fonts, styles, and sizes. These elements are visually stunning, professionally designed, and implemented to hold together a presentation, whether it be a family album or a business proposal. Enhance even simple scrapbools with smart shapes, special effects, and complete integration with iPhoto. Whether you're just getting started in the scrapbook realm, or you are an old hand in the genre, the smart, sophisticated iScrapbook 3 lets you infuse any memory with the emotion you feel. ($50; $90 family pack)—JACKIE DOVE
MacBook Air, 11-inch
Ever since the discontinuation of the 12-inch PowerBook years ago, Mac users have been yearning for an ultraportable laptop. The 13-inch MacBook Air, released in 2008, was light enough, but it was still too big. But with the new 11-inch MacBook Air ( ) the prayers of those tired of lugging around a standard-sized laptop were answered.
The one major compromise is with processing power. The 1.4GHz Core 2 Duo processor in the 11-inch Air isn't the latest and greatest Intel has to offer (nor is the 1.6GHz built-to-order option), but it's powerful enough for general-purpose tasks. And the new Air handles heat much better than previous generations—which, along with the flash storage, contributes to the new Airs ability to perform much better than its predecessors.
In a year where the iPad got all the attention (and rightfully so), the 11-inch MacBook Air proved that, without a doubt, Apple is still dedicated to the Mac. ($999 and $1199)—ROMAN LOYOLA
MultiSync PA271W
While NEC's latest professional display, the MultiSync PA271W ( ), might share the same resolution and diagonal screen size as Apple's 27-inch LED Cinema Display, the two monitors are entirely different beasts. One is perfect companion to Apple's consumer Macs and one is a serious tool for color pros that demand superior performance and require granular adjustment capabilities. Don't believe us? Read on.
In addition, the PA217W offers Picture-in-Picture and Picture-by-Picture modes, as well as support for virtual profiles. NEC includes some nifty new technologies to that help its CCFL backlighting get up to a stable operating state in seconds rather than minutes and to maintain consistent backlight performance over time.
For those who depend on accurate color, the MultiSync PA271W is a professional-grade display with the tools necessary to make your vision a reality. ($1399)—JAMES GALBRAITH
P5 Mobile Hi-Fi Headphones
But you aren't just paying for shiny metal surfaces. The P5's construction is superb, and clever features such as swappable, no strain cables and magnetically attached, replaceable earpads add long-term value. Tipping the Eddy scales is the Apple-style, three-button inline remote/microphone module that works with iPhones, the iPad, and recent iPods, iMacs, and MacBooks to let you chat and control media playback. When it comes to outside-your-ear-canal headphones, the P5 is as well-rounded a portable audio product as we've seen, and it's a symbol of the popularity of Apple's products among fans of high-end audio. ($300)—DAN FRAKES
Photoshop CS5
There are so many improvements in Adobe Photoshop CS5 ( ) that it's hard to pinpoint where to begin. From its new 64-bit capability on the Mac to details like drag-and-drop file integration, the CS5 upgrade is the most significant and impressive since the Creative Suite started shipping in 2003.
While Photoshop is not a painting program, the CS5 version does have many new painterly features, including a completely rebuilt brush engine that lets you mix and blend colors on the screen in much the same way you'd do it on a painter's palette. The Bristle Tips feature lets you define brush properties to define exactly the brush you need. The easy to use Puppet Warp feature lets you move objects, including human and animal limbs, in a natural way. Last but not least, HDR (High Dynamic Range) and Lens Correction features provide a host of professional tools to enhance photo exposure, focus, and special effects. ($699)—JACKIE DOVE
Pogoplug Pro
Increasingly, people want to share the stuff on their computers with others across the globe. You can accomplish this with Mac OS X's sharing services or via online storage and sharing services such as MobileMe's iDisk, Dropbox (an Eddy winner last year), or SugarSync. But setting up a sharing server is beyond the ken of many Mac users. And convenient though online sharing services are, you have to pay a premium for significant amounts of storage space.
The Pogoplug Pro from Cloud Engines is an alternative that lets you easily share the contents of attached USB storage devices (hard drives and USB key drives) over the Internet. This means that the amount of storage you can share is limited only by the size of the drives attached to the Pogoplug. Sharing the contents of those drives is as easy as creating an account on pogoplug.com, choosing folders to share, and sending invitations to those who you'd like to share those folders with. If you have a lot to share, Pogoplug is a simple and affordable way to do it. ($99)—CHRISTOPHER BREEN
PowerShot S95
Scrivener 2.0
At its most basic, writing is about putting down one word after another. Scrivener 2.0 from Literature & Latte certainly lets you do that (and gets out of your way while you're at it) but additionally, it takes care of all the other concerns present when constructing a longer project: organization; where to keep information about plot, characters, and setting; and the final export. As a writer, Scrivener is my weapon of choice because it handles all the business of writing from research to producing your finished manuscript.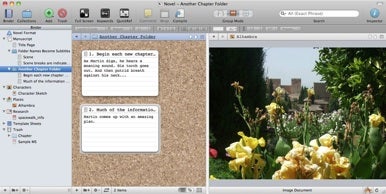 Scrivener took home an Eddy award back in 2007, but its developers have hardly been resting on their laurels. The major 2.0 update brings not only a handful of new features (such as the ability to export projects as both iBooks-compatible ePub files and Kindle-compatible .MOBI files) but interface enhancements such as a freeform corkboard and the ability to create ad hoc collections of project elements. And best of all, writers who want to take their projects on the go can take advantage of the new support for syncing with DropBox or Web service Simplenote, because you never know when the creative spark might strike. ($45)—DAN MOREN
Sparkle
If you've used third-party Mac software over the past few years, chances are you've benefitted from Sparkle without even knowing it. It's Sparkle that's responsible for the window in your favorite program telling you, "A new version of applicationname is available," displaying detailed release notes about the new version, and providing you with a convenient Install Update button that makes the software magically current.
Although Sparkle has been around for a few years, the past year has seen it go from a convenient feature present in a few of my favorite programs to being so pervasive that I'm disappointed when a program doesn't use Sparkle. It's now a part of hundreds of Mac programs, with more and more integrating it every week. The Mac App Store may bring easy app updating, but Sparkle has streamlined updates for millions of Mac users, and will continue to do so. Thanks, Andy. (Free)—DAN FRAKES
Spector Pro Mac 2010
StarCraft II: Wings of Liberty
StarCraft II: Wings of Liberty ( ) is an opus of violence, fire, and flawed humanity. After years of development, Blizzard has delivered one of the best real time strategy games of all time and one of the most powerful single player campaigns in recent memory—a story with surprising narrative weight and varied, compelling gameplay. Thanks to an equally strong multiplayer, StarCraft II has once again raised the bar for all others to meet. And this is only chapter one of the trilogy.
After playing ten years of games trying to be StarCraft, it's nice for Blizzard to come back with StarCraft II: Wings of Liberty and once again raise the bar on sci-fi real-time strategy. The multiplayer is similar enough to the original to keep the puritans happy, while the single player campaign is a beautiful, complex, replayable, and epic journey into a world that gets more interesting every time I enter it. Oh yeah, it was worth the wait. ($60)—CHRIS HOLT
Steam
The Steam online gaming service is more than just an iTunes Store–like place for games; the free service from Valve offers exemplary social functions and demos of many of the games. Steam has become the go-to place for gamers to shop for and try out everything from blockbuster releases to indie hits, find new friends to frag with, and stay up to date with the latest patches. A Steam buddy list lets you see which of your friends are online, what games they're playing, as well as invite friends into your game or quickly join them on a campaign already in progress—all with a click or two.
We were tempted to award eddies to all five of Valve's marquee franchises (Portal, Half-Life 2, Left4Dead 2, Team Fortress 2, Counterstrike: Source) as they only arrived on the Mac this year, but felt more comfortable giving the nod to the service that brought them all here to the Mac platform. It's an exciting time to be a Mac gamer thanks to not only Steam's impressive list of games now available on the platform, but also because the promise of future titles making their way to a MacBook, iMac, or Mac Pro near you. (Free)—CHRIS HOLT
TextExpander 3
In 2010, a great app—Smile's TextExpander—just kept getting better. Of course, the text-expansion utility (which inserts saved "snippets" of text wherever you want with a quick keystroke) has been around forever. But in March 2010, Smile (formerly known as Smile on My Mac) released TextExpander 3.0 ( ). That rev added a bunch of nice new features, including keyboard shortcuts for creating snippets; "fill-in" snippets, which could incorporate user input; and the ability to sync snippets between Macs via Dropbox or MobileMe.
What makes TextExpander a great app isn't just that it's so handy and so capable, but also the fact that it's constantly evolving—refining its core tools, adding new ones, and adapting to an ever-changing technology landscape. That's how a venerable utility like TextExpander remains fresh and vital, and why it's one of our favorite apps of the year. ($35)—DAN MILLER
11.6-inch MacBook Air/1.4GHz (128 GB)
32GB iPod touch (fourth generation, late 2010)
64GB iPod Touch (fourth generation, late 2010)
Kindle (Wi-Fi, 3rd Generation)
iPad (1st generation) Family
Note: When you purchase something after clicking links in our articles, we may earn a small commission. Read our affiliate link policy for more details.