Designing your own holiday cards makes for fun, creative, and deeply personal messages to friends and family. Armed with your trusty Mac and a digital camera, the design possibilities are endless! Here are three ideas to get your creative juices flowing fast.
Document setup
No matter which software you use—I demo the techniques with Photoshop CS5 and Photoshop Elements 10, but you can use almost any image editor—start with a 5-by-7-inch document. With Photoshop or Photoshop Elements, set the resolution to 250 ppi (pixels per inch). Be sure to keep text and other important parts of the message at least a quarter inch away from the document's edge to ensure they're not cropped when printed.
Design 1: Vintage photo with red accent
Start this design by adding your favorite photo to your card document (a simple copy and paste operation works just fine), and then resize the photo so there's an inch of free space on all sides. For a quick antique look, you can drain the photo's color and add a sepia (brown) tint. This is easily done in Photoshop CS3 and later by choosing Image -> Adjustments -> Black & White. In the resulting dialog box, click the Tint checkbox and Photoshop bathes your photo in light brown. To add a dark red outline to the photo, open the fx menu at the bottom of the Layers panel and choose Stroke (double-click to unlock the layer if you need to).
In the resulting dialog box, enter 8 pixels for size, click the color swatch to open the Color Picker and choose dark red, and then set the Location pop-up menu to inside. Pick your favorite holiday quote—or create your own—and place the text under the photo. Use a serif typeface (one that has little feet or slabs on the end of each letterform) in the same dark red color as your stroke.
If you're using Photoshop Elements, you can create the same look by using Full Edit mode and the Effects panel. Once you've added your photo to the card document by using File -> Place or via copy and paste, locate the Effects panel on the right side of the Elements workspace (if you don't see it, choose Window -> Effects). Click the Photo Effects button at the top of the panel (third from left) and then choose Show All from the pop-up menu. Scroll to the bottom of the list and double-click the sepia thumbnail preview; Elements creates the sepia on a duplicate image layer (go ahead and simplify the layer, if you get an alert). Choose Edit -> Stroke (Outline) Selection to add the dark red outline around the image.
Design 2: Photo Blocks
Take six photos using the macro (close-up) setting on your digital camera. These photos could be close-ups of your favorite decorations, wrapping paper designs, or the holiday baking process (house-decorating and present-wrapping are great ideas, too!).
In Photoshop or Elements, add the photos to your card document via copy and paste or by using File -> Place (the latter creates a smart object in Photoshop) and then arrange them side-by-side in two rows of three. Make sure your images are properly cropped and sized before you place them. If you're using a program that supports guides (such as Photoshop or InDesign), place a horizontal guide at 2.5 inches and vertical guides at 2.3 and 4.6 to help get the alignment just right.
Add a short text greeting that's centered vertically and horizontally. Use a script (cursive) typeface set to white and a large point size (I used 92-point Adios Script Pro in the example), and then add a drop shadow to increase readability atop the photos. If you're printing the card at home, be sure to choose a paper size that includes the word "borderless" so your printer knows to print all the way to the paper's edge.
Design 3: Stock photo frame
You can use stock imagery to creatively frame or embellish a photo. Companies such as iStockphoto.com have millions of affordable, royalty-free images to pick from. For best results, try searching stock sites for the key words Christmas frame or Holiday frame.
Once you've located and downloaded the stock art, open it in Photoshop and then create a selection of the area in which you'll plop your own photo. Open the photo, select all and then copy it to your Mac's clipboard. Return to your stock art document and choose Edit -> Paste Special -> Paste Into in CS5, or Edit > Paste Special in earlier versions, and the new image appears inside your selection (in Photoshop Elements choose Edit -> Paste Into Selection). Choose Edit -> Free Transform (Image -> Transform -> Free Transform in Elements 10) to resize your photo if necessary, and then use the fx menu to add an Inner Shadow for extra realism or any other effect you'd like.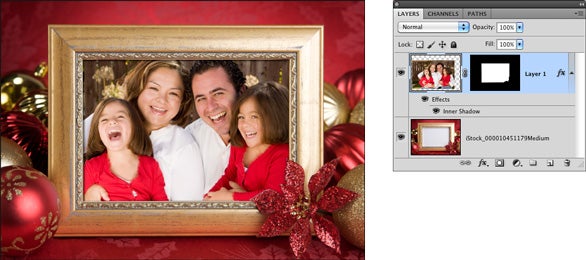 As you can see, your holiday card options are limitless! And by using your own photos and text, the card will have an extra special place in the heart of each recipient.
[Lesa Snider, author of Photoshop CS5: The Missing Manual and coauthor of iPhoto '11: The Missing Manual (Pogue Press/O'Reilly) is chief evangelist of iStockphoto.com and founder of PhotoLesa.com. Twitter: @PhotoLesa]
This is an updated version of a previous article.