The iPad is fantastic at a lot of things, but how does it measure up as a clock? The tablet's big beautiful screen gives developers a lot of space to experiment with the design and features of an alarm clock app. I took a look at three iPad apps that offer different approaches to clock functionality.
Night Stand HD from SpoonJuice offers nine different clock styles from which to choose, including an analog clock, three different variations of an LCD alarm clock, and a world clock. Several of its styles are quite appealing—the colored LCD and "flip" style both look great on a night stand or desk at night. Others, though, aren't good at all, namely the analog clock and "Nixie" style.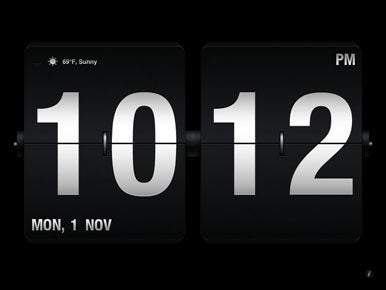 Night Stand's colored LCD and analog clock styles let you choose their color by moving a slider along a color spectrum. While I appreciate the full control offered, it might be better if the app simply gave users several nice colors to pick instead of relying on a slider control.
You can add multiple, repeating alarms, and Night Stand HD—which runs on the iPhone and iPod touch in addition to the iPad—will even require you to answer a math question before turning the alarm off just to make sure you're awake. Night Stand displays current weather information as well, though I think high and low temperatures for the day would be more useful information than the current conditions.
Clock Pro HD is a bit different from Night Stand HD in that it's not just an alarm clock. The iPad-only app from Alarm Clock Company becomes pretty much any kind of "clock" you'd want. It features a digital clock, world clock, cook timer, chess clock, stop watch, and more.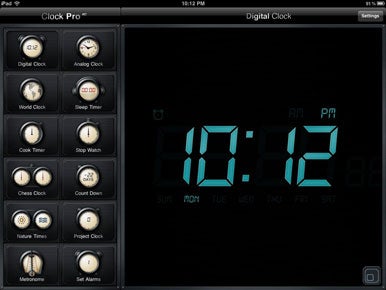 Though Clock Pro may be full of features, I didn't find its clocks to be particularly impressive. The app's digital clock looks nice enough, but when you turn the iPad into landscape mode—how I prefer to set my tablet up at night when I'm using it as a clock—Clock Pro shows your clock selection choices on the left. There's no way to hide them. And that's not what I care to see when I wake up in the morning.
There are other odd design choices worth noting. The app stores its alarms in a clock style—that confused me the first time I tried to set an alarm. Clock Pro HD also doesn't include weather data. It's a serviceable app in many ways, but it's my least favorite of the ones I tested here.
In contrast to Night Stand HD and Clock Pro HD, Alarm Clock HD Pro isn't long on features. But the iPad app from iHandySoft is simple and easy to use. Instead of different clock styles, Alarm Clock HD Pro offers a basic digital clock style. You can choose among a few selected colors, but that's it.
Like the other apps, Alarm Clock HD Pro supports multiple, repeating alarms. It also shows weather data like Night Stand HD; in this case, though, Alarm Clock HD Pro displays the day's high and low temperatures. I also appreciated how the app let me adjust screen brightness by sliding two fingers across my iPad screen—an example of how well Alarm Clock HD Pro functions.
Among the apps I tested, Night Stand HD and Alarm Clock HD Pro stand out as the two best options. Which one you should choose depends on how much control you want. If you'd just like a simple digital clock, Alarm Clock HD Pro fits the bill. If you'd like some different clock styles to choose from, though, Night Stand is a great choice.
[Kyle Baxter writes and publishes the Mac weblog TightWind.]