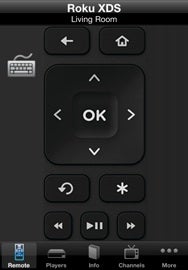 Controlling your Roku digital video player from an iPhone or iPod touch got a lot better starting Monday morning, as a major 2.0 upgrade for DVPRemote went live in the App Store.
New in DVPRemote 2.0 is an Instant Replay button that makes it easy to leap back 10 seconds. New Back and Info buttons should also make it easier to navigate menus and get the full scoop on what you're watching.
DVPRemote 2.0 can now display your Netflix Instant Queue (in either alphabetical or queued order) so you can quickly tap something you want to watch on your iPhone or iPod touch and see it displayed on your Roku player. The app also gained full keyboard support for any text entry screen and the ability to browse and organize channel lists. Plus, it now supports the iPhone 4's Retina display and multitasking in iOS 4.
DVPRemote 2.0 is available now for $3 in the App Store. You'll need an iPhone or iPod touch running iOS 3.0 or later and, of course, a Roku player.