There's a nice, time-saving idea behind PicBounce, a free app from Clixtr: Instead of uploading your iPhone photos first to your Twitter account and then your Facebook account—or vice-versa—you can do both at the same time, saving precious seconds and expanding your social-networking opportunities.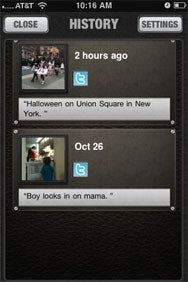 There's only one problem: It doesn't work. I spent days trying to test PicBounce on two separate phones and was completely unable to log into two different Facebook accounts during that time. (Another Macworld editor also tested PicBounce and was similarly unable to upload a photo onto Facebook.) On several occasions, PicBounce got stuck in Facebook setup mode, forcing me to shut down and restart the phone in order to reset the app. A friendly technician at Clixtr e-mailed me a few times over several days to try to solve the problem, but none of his suggested solutions worked.
Apparently, this kind of problem isn't new. In the notes for PicBounce 1.3, Clixtr claims "we have resolved an issue that caused some peoples' photos to not show up on Facebook." Obviously, there is still work to be done in this area.
That left me with only the ability to upload photos to Twitter. PicBounce was able to connect to that site—but crashed several times while I tried to upload photos. In any case, every Twitter client already comes with the ability to upload pictures from your phone. PicBounce is only valuable if you can upload to multiple sites at once. It struggles with one. PicBounce is a nice idea; it would be better if the app actually functioned as advertised.
[Joel Mathis is a freelance journalist and political columnist for Scripps Howard News Service. He lives in Philadelphia.]